Sichuan-Style Spicy Cumin Lamb Noodles
This post is sponsored by American Lamb Board. 
This is my twist on the noodles made famous by Xi'an Famous Foods in New York City. These noodles include cumin and Sichuan peppercorn spiced sliced lamb sirloin all coated in a slick spicy chili oil sauce.
While this dish is typically served with hand-pulled biangbiang noodles I opt for the more readily accessible flat lasagna noodles which can be torn apart after being cooked. The result is still wide flat noodles but without the added effort required to make noodles at home.
For this recipe I use the lamb loin, which comes from the top of the back end of the lamb. It is an extremely tender boneless cut and lends itself well to quick cooking before being combined with the noodles and chili oil. I prefer to use the flavorful and versatile American lamb in this recipe because of its mellow and unique lamb flavor.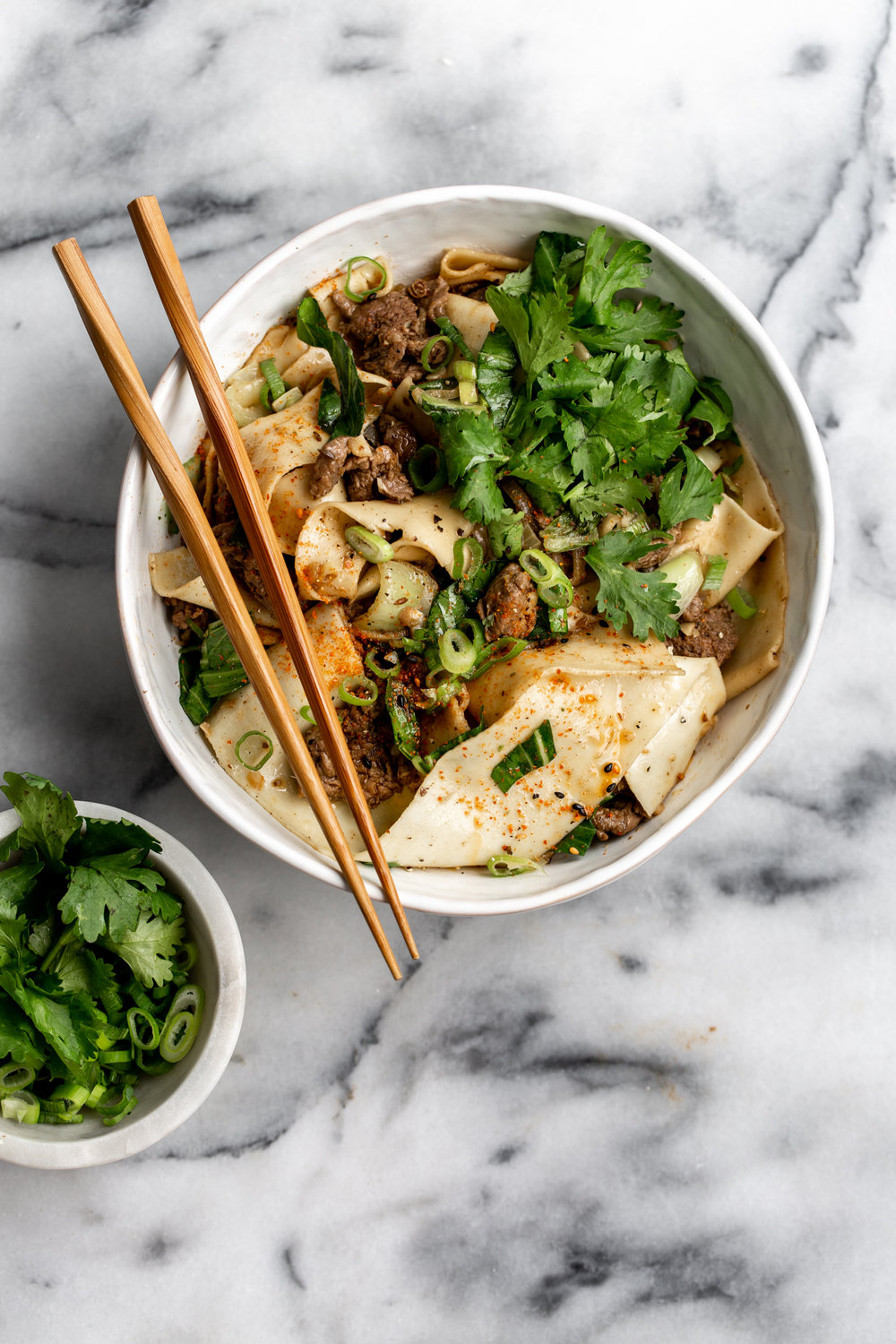 When ordering your lamb, ask your butcher where the lamb comes from. Lamb raised domestically in the United States is the freshest type of lamb and therefore gives you the highest quality meat. There are farmers in nearly every state raising lamb year-round so fresh, local lamb is readily available no matter where in the US you are located.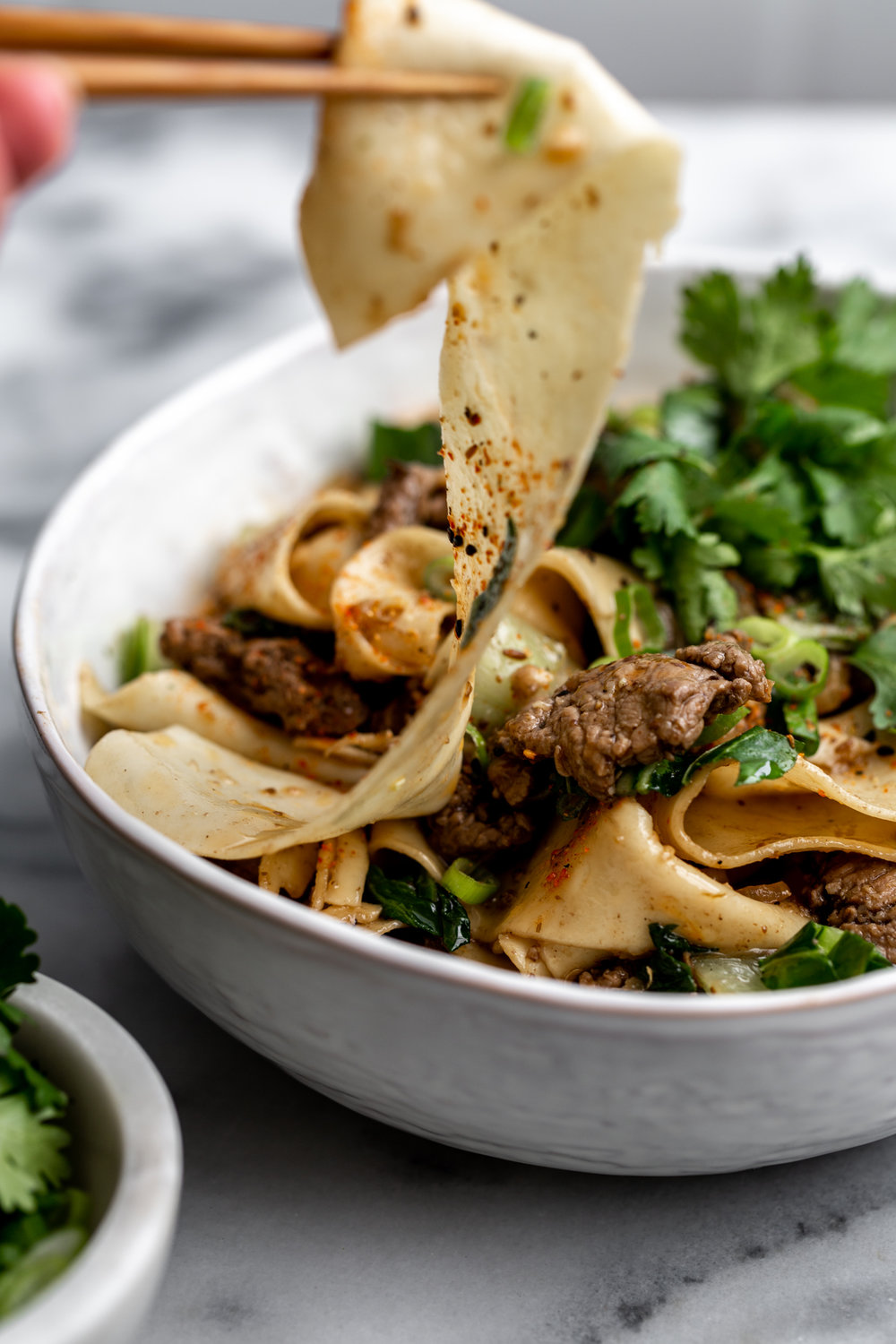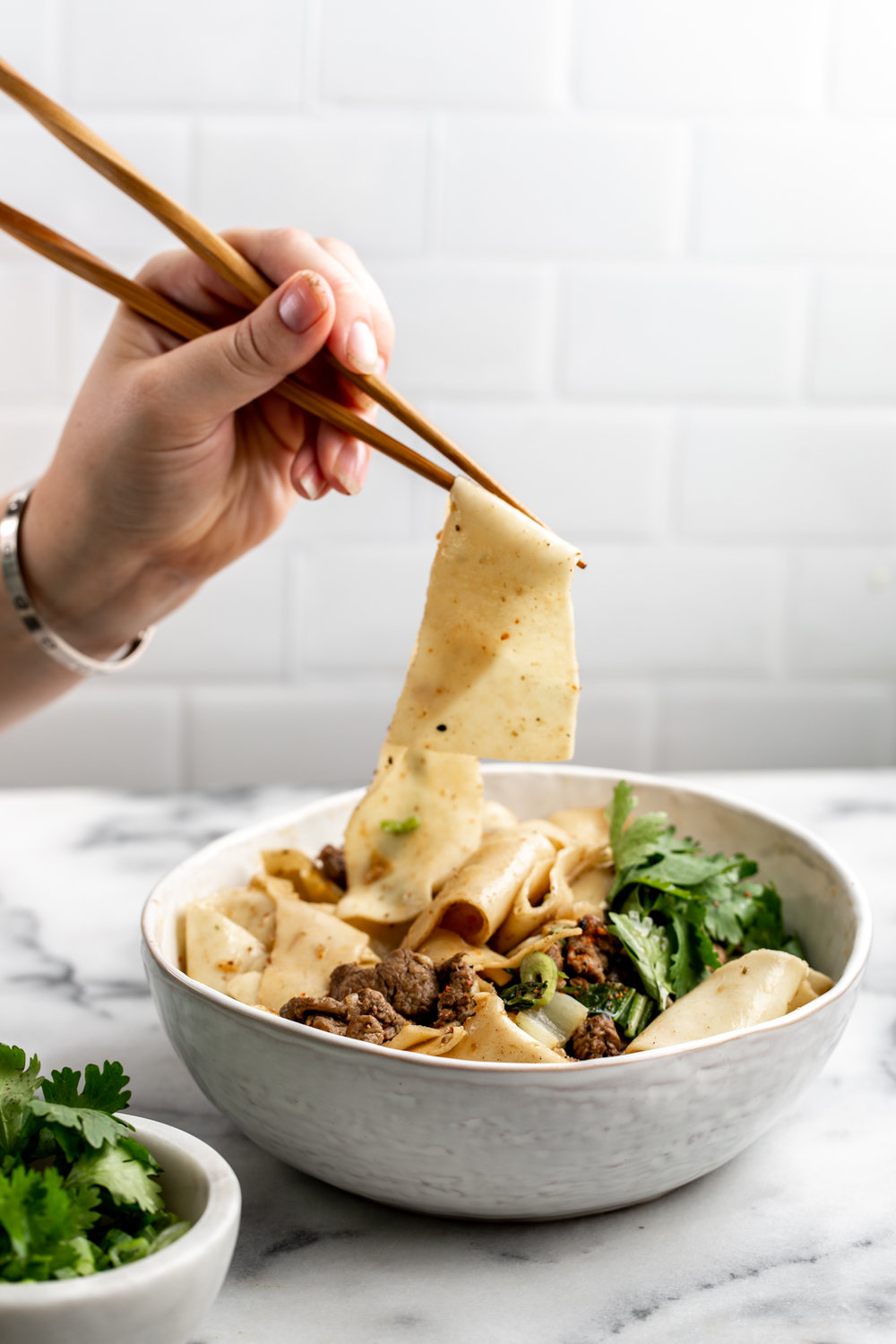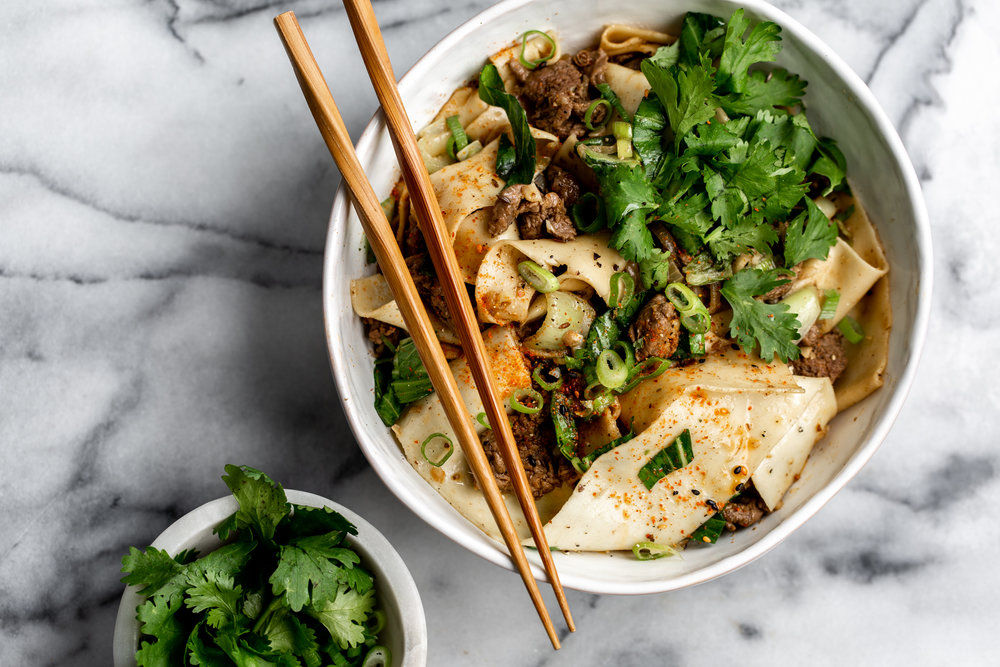 Sichuan-Style Spicy Cumin Lamb Noodles
2

teaspoons

cumin seeds

1

teaspoon

coriander seeds

1

tablespoon

Sichuan peppercorns

½

teaspoon

freshly ground black pepper

1

pound

boneless American lamb loin chops,

thinly sliced

¼

cup

canola oil

1

tablespoon

grated ginger

6

cloves

garlic,

chopped

2

shallots,

thinly sliced

4

heads baby bok choy,

sliced

½

pound

flat lasagna noodles

2

tablespoons

shaoxing rice wine

3

tablespoons

chili oil

1

teaspoon

crushed red pepper flakes

2

tablespoons

soy sauce

1

tablespoon

dark brown sugar

¼

cup

thinly sliced green onions

¼

cup

chopped cilantro
Heat a nonstick skillet over medium heat, add the cumin, coriander and Sichuan peppercorn seeds and toast, shaking the pan occasionally until the spices are fragrant, about 2 minutes.

Remove spices to a mortar and pestle and coarsely grind and set aside. Toss the lamb with the spice mixture and black pepper and let marinate for at least an hour.

Heat a large heavy bottomed pot over medium heat, add the canola oil and heat through. Add the ginger, garlic and shallots and sauté until the shallots are tender, about 4 minutes.

Add the lamb and cook, stirring occasionally until browned, about 6 minutes. Add the bok choy and remove from heat.

Bring a large pot of water to a boil over medium-high heat. Add the noodles and cook until tender, about 7 minutes.

In a small bowl whisk together the rice wine, chili oil, red pepper flakes, soy sauce, and brown sugar. Add the noodles and the sauce to the lamb and toss to combine. Top with green onion and cilantro and serve.
DID YOU MAKE THIS?
TAG ME ON INSTAGRAM TO BE FEATURED ON MY STORIES! @cookingwithcocktailrings