Seared Fish Sandwich with Tarragon Yogurt Sauce and Pickled Shallots
For this sandwich I use Opah, a Hawaiian fish also known as Moonfish, which might be because of its round shape and bright colors. It's a fish with a rich flavor and a firm texture and can be substituted for other similar white fish such as ono or mahi mahi. In Hawaii for a long time Opah was known as "good luck" and Hawaiians gave it to each other as a gesture of goodwill rather than selling it. Unfortunately, that is no longer the case so you're going to have to pay for it.
In this recipe I sauté the pieces of Opah in oil and butter and let the rich flavors shine. The fish sandwich is paired with a tarragon yogurt sauce and pickled shallots for a sandwich characterized by its simplicity. I prefer to use a yogurt-based sauce for pairing with fish rather than a mayonnaise based sauce as it provides for a lighter accompaniment.
I get my fish from a local store, Santa Monica Seafood, as it has a great selection of fish with plenty of sustainable options.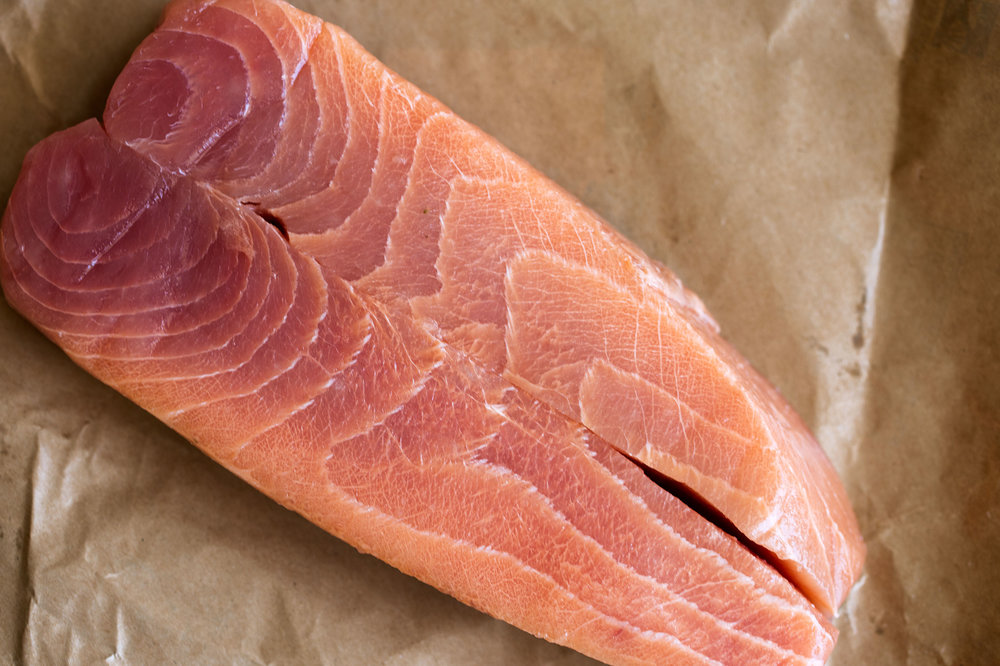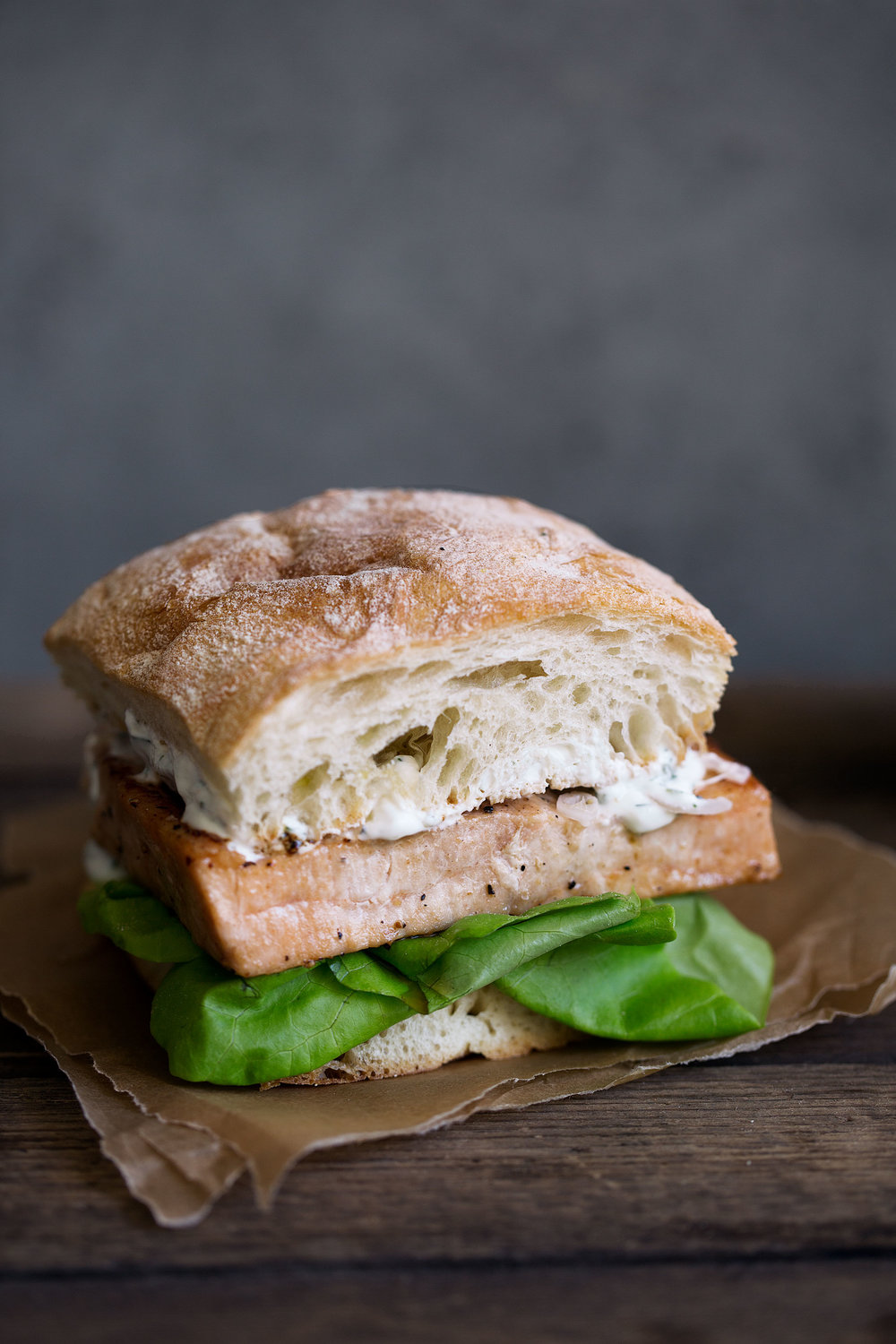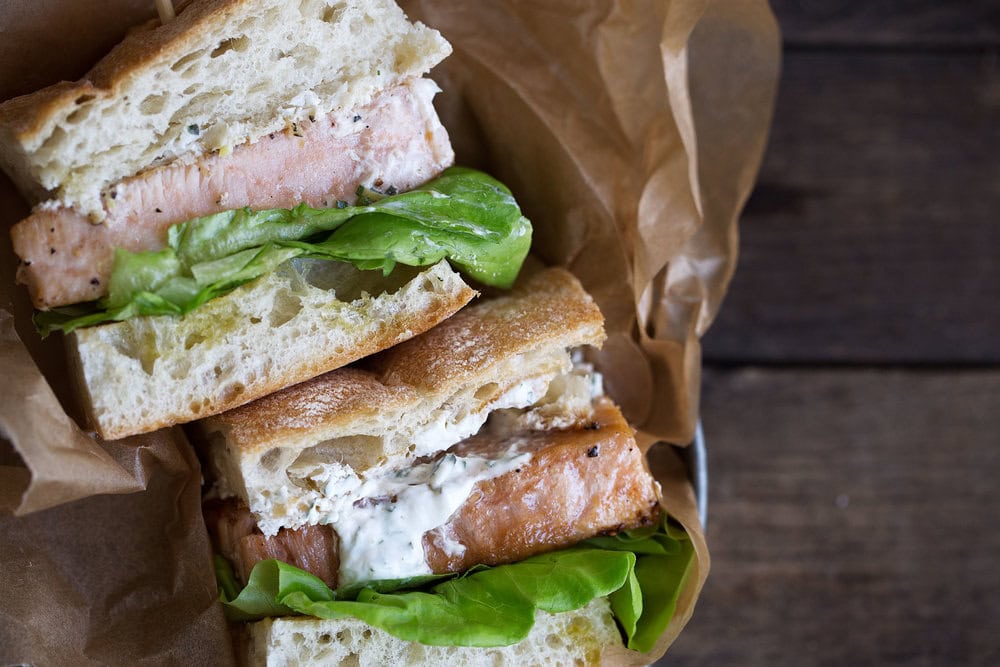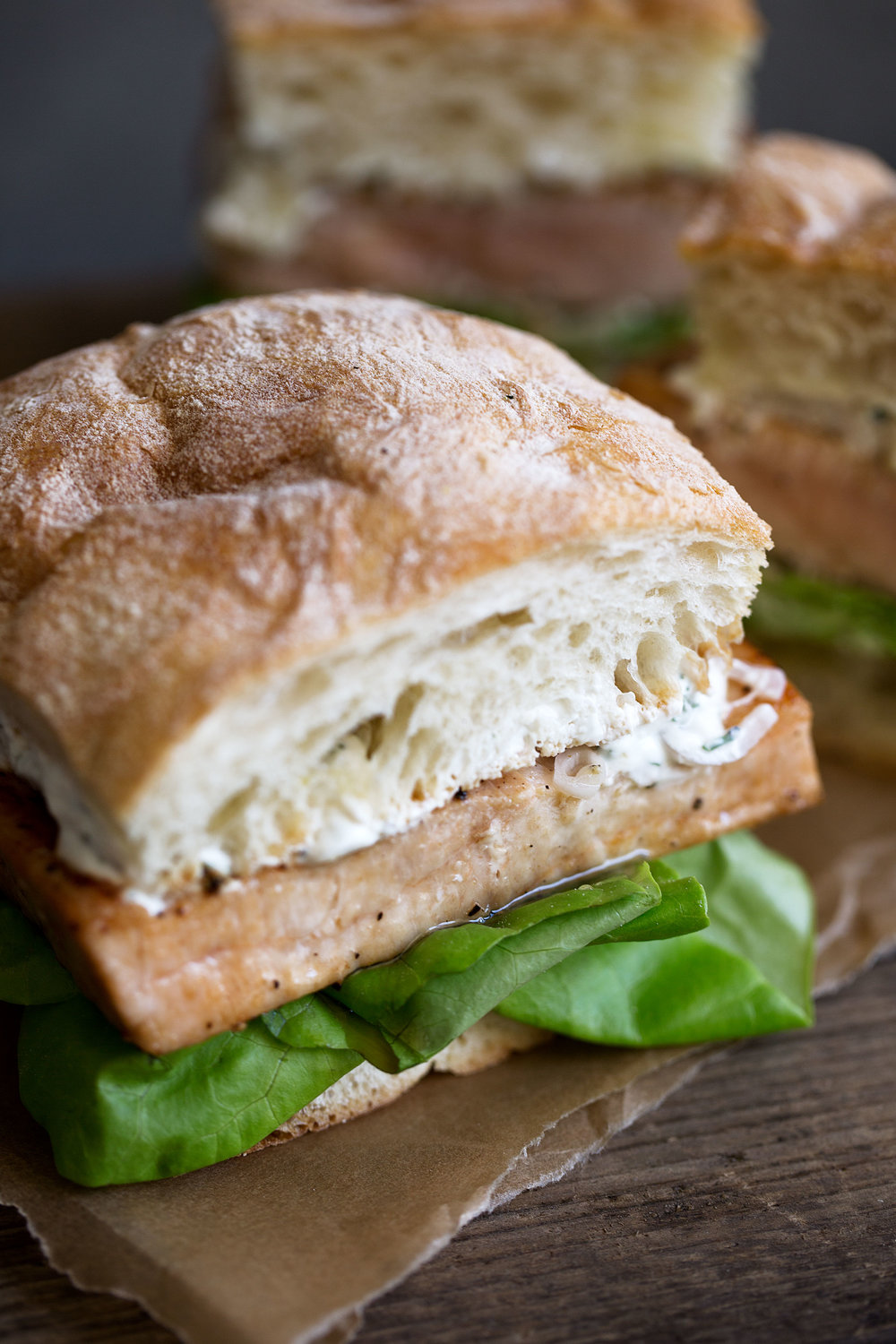 Seared Fish Sandwich with Tarragon Yogurt Sauce and Pickled Onions
For the pickled shallots:
3

medium shallots,

thinly sliced

¼

cup

apple cider vinegar

2

teaspoons

kosher salt

2

teaspoons

granulated sugar
For the tarragon yogurt sauce:
¾

cup

Greek yogurt

2

tablespoons

freshly chopped tarragon

2

teaspoons

lemon zest

2

tablespoons

freshly squeezed lemon juice

½

teaspoon

teaspoon garlic powder

¼

teaspoon

kosher salt

¼

teaspoon

freshly ground black pepper
For the pickled shallots:
In a small saucepan over medium heat, stir together the apple cider vinegar, ½ cup water, salt and sugar and bring to a boil. Add the shallots to a small bowl or glass jar and pour the pickling mixture over top. Cover and refrigerate at least two hours before using. The pickled shallots can be kept in an airtight container in the pickling liquid for up to 2 weeks.
For the tarragon yogurt sauce:
Add the yogurt to a small mixing bowl and stir together the tarragon, lemon zest, lemon juice, garlic powder, salt and pepper. Cover and refrigerate until ready to use.
For the fish sandwich:
Season the filets on both sides with salt and pepper. Heat a large sauté pan over medium heat, add 1 tablespoon of the olive oil and heat through. Add 1 tablespoon of the butter and allow to melt. Add two of the filets to the pan and sauté until golden brown, about 3 minutes.

Use a spatula to flip the fish and sauté on the other side, about an additional 3 to 4 minutes depending on the thickness. Remove to a plate then repeat with the remaining oil, butter and fillets.

Add butter lettuce leaves to the bottom halves of the rolls, then top each roll with a piece of the opah followed by some pickled shallot. Spread about 2 tablespoons of the yogurt on the top of each roll then close the sandwiches.
DID YOU MAKE THIS?
TAG ME ON INSTAGRAM TO BE FEATURED ON MY STORIES! @cookingwithcocktailrings