A charcuterie board is a great appetizer or first course when entertaining. It's the art of assembling meats/ salumi and cheeses accompanied by fruit, nuts and crackers for easy and quick hors d'oeuvres.
A charcuterie board is a great option for a low-maintenance way to offer an assortment of appetizers and keep your guests entertained and happy. Read more about how to assemble a charcuterie board here. For the most aesthetically pleasing board I always serve an odd number of both cheese and charcuterie; either 1, 3 or 5. As a general guide, I typically allot 2 ounces of each cheese and charcuterie per person when served as an appetizer.
"Charcuterie" isn't just one of my favorite French words to say – an assortment of meats goes a long way to complement a selection of cheeses on a charcuterie plate.
While "charcuterie" refers specifically to French meats, "salumi" is the umbrella term for Italian cured meats. Here I will be using the term as defined in Larousse Gastronomique, the culinary encyclopedia, which defines charcuterie as, "products based on pork meat or offal…The numerous preparations of charcuterie include cured meats, fresh and smoked sausages, pâté, andouilles, andouillettes, black puddings (blood sausage), boudins blancs, sausagemeat, hams, galantines, pâté en croûte, ready cooked dishes and foremeats".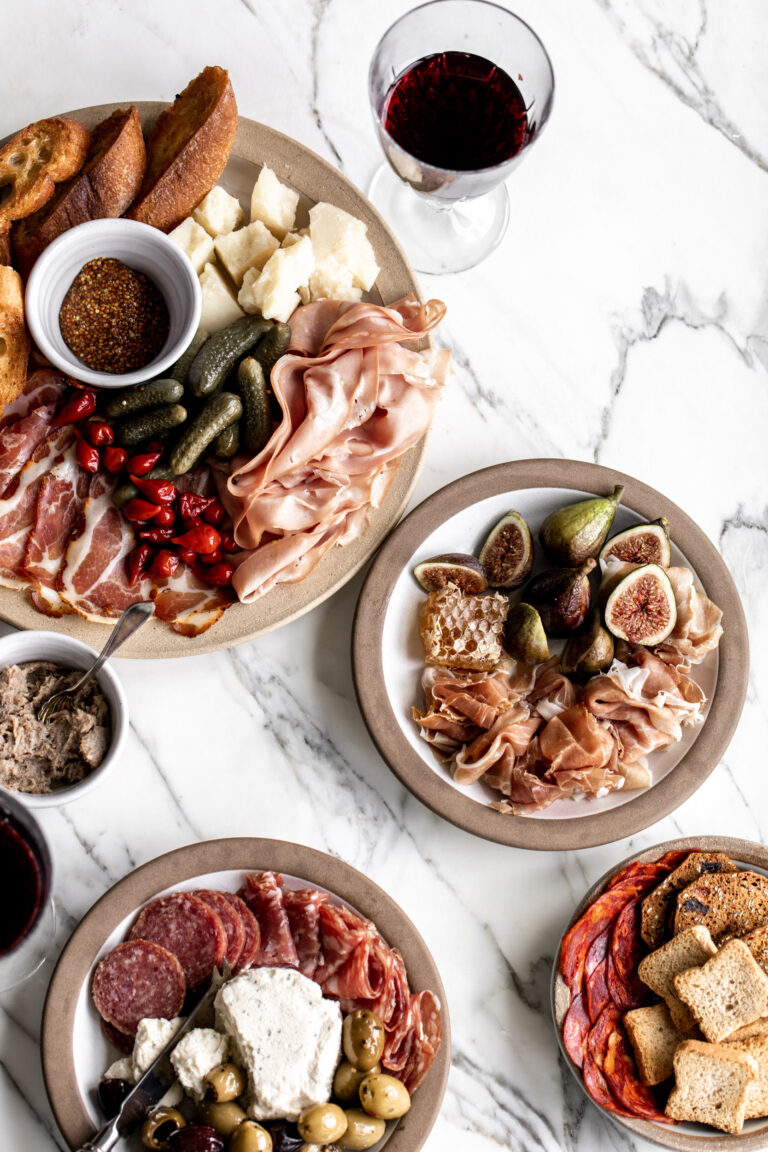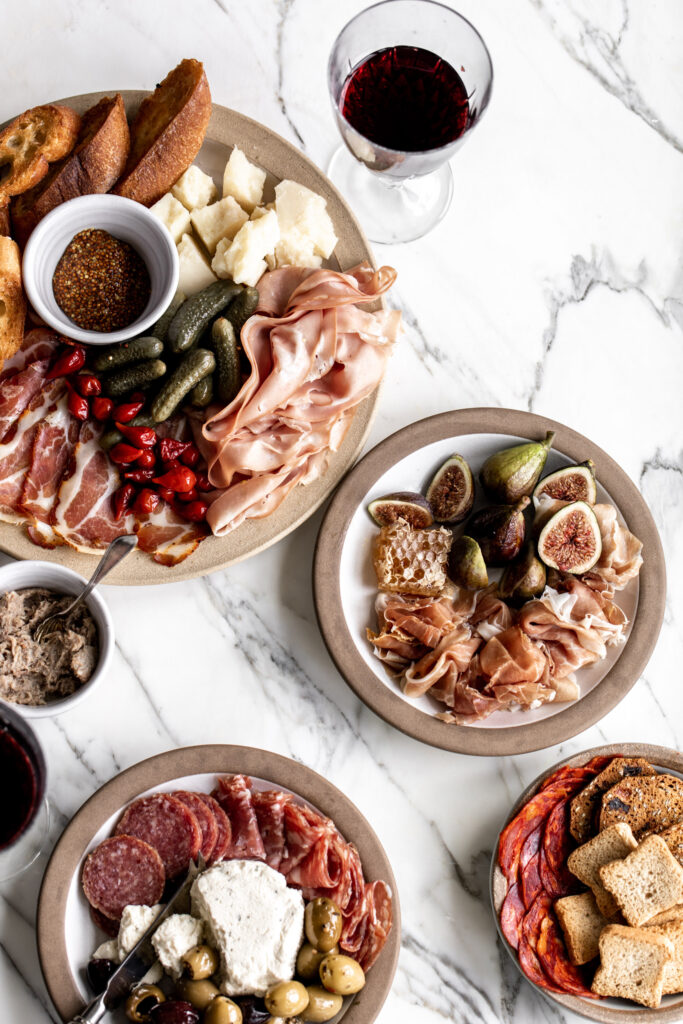 With the rise in popularity of cheese boards you can find pre-sliced meat at many grocery store chains, making them more accessible than ever before. If possible I recommend having your deli-counter slice the meat for you ensuring the most high-quality product. They will also be able to cut the meat to a thickness that highlights the product the best. Choosing the perfect meats can make a difference when assembling a cheese and charcuterie board.
While some, like prosciutto, are easier to find, others like funky 'nduja are worth a bit of a hunt and can often be found at specialty or gourmet markets. While price doesn't necessarily mean everything when it comes to quality products, because of the time and energy spent aging most of these meat products, it does factor in. As with many meat products, I'd also advise going for quality over quantity.
10 Best Charcuterie Board Meats
I'm sharing a roundup of the best charcuterie board meats that offer a great balance of taste, texture and flavor. Mix and match as you wish or select one and serve it alongside your favorite cheese. I typically try to choose one or two available cured meats that people are familiar with like prosciutto or sopressata. With a more unique meat you can introduce people to a new taste like jamón Ibérico. In addition, something new can even be a conversation starter at a gathering!
This is in no way an extensive list of all the different types of charcuterie available – there are so many varieties within different cuisines. Here are my favorite meats to include on a cheese board. Focusing on those from Europe (namely France, Italy and Spain).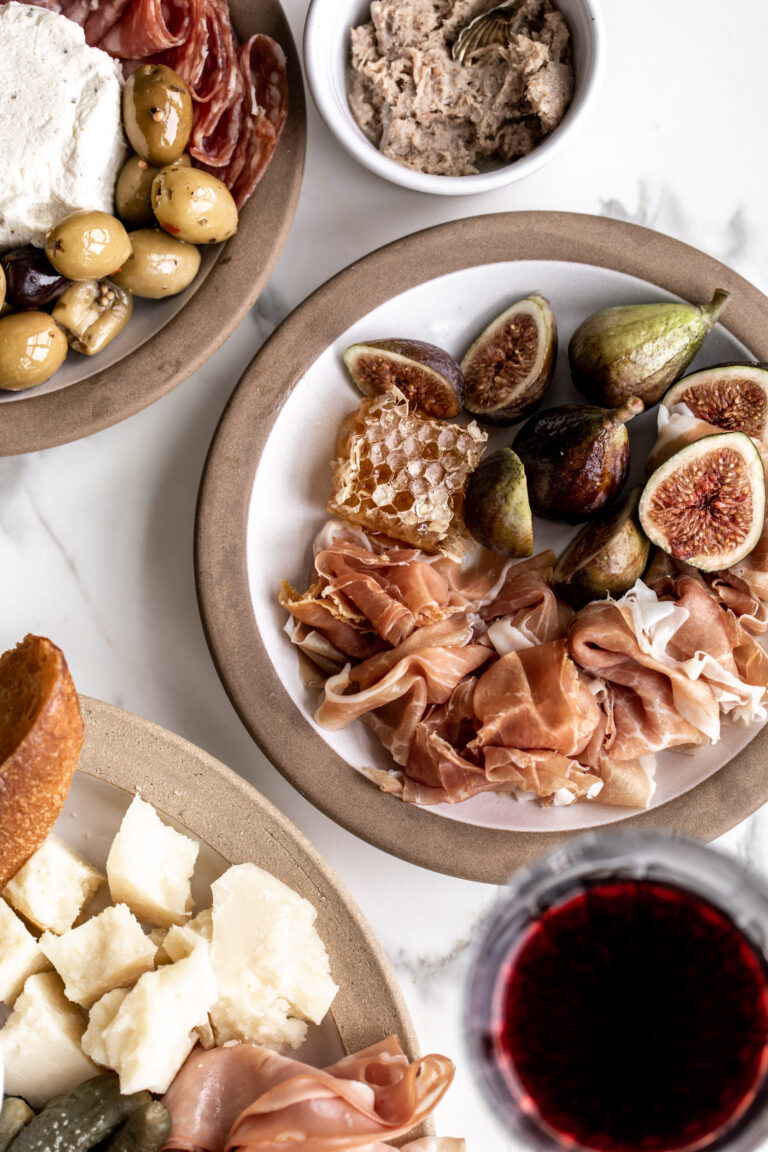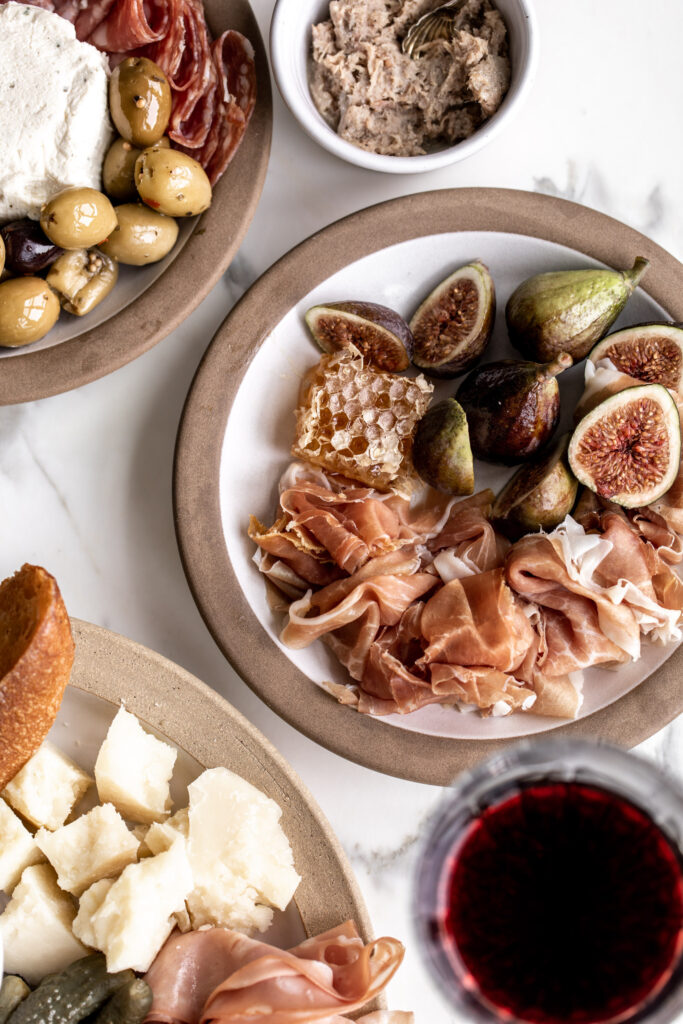 Prosciutto
Starting off with by far the most popular cured meat to include on a board: prosciutto. This salty, silky meat is made from curing the whole hind leg of a pig. Prosciutto is a whole muscle salumi served sliced paper-thin. There are many different types of prosciutto. Some aged for a longer period of time for a richer, more high quality product; the most authentic coming from Parma (Prosciutto di Parma). Like Champagne coming from the Champagne region of France, Prosciutto di Parma can only be called that if it's from the area. Pair it with fresh mozzarella or burrata, hard cheese like Parmesan. Or simply wrapped around slices of fresh fruit like melon.
Country of origin: Italy
Rillettes
Similar to a pâté but more approachable to many people; rillettes are made from slow cooked meat (like pork or duck) shredded and mixed with fat rendered during the cooking process and served chilled. It's essentially a shredded and chilled type of confit. Pâtés, mousses and terrines are blended and served for a smoother texture. They are often made from liver or other organs. I like pairing rillettes slathered on grilled bread with cornichons for an acidic contrast garnished with fresh herbs.
Country of origin: France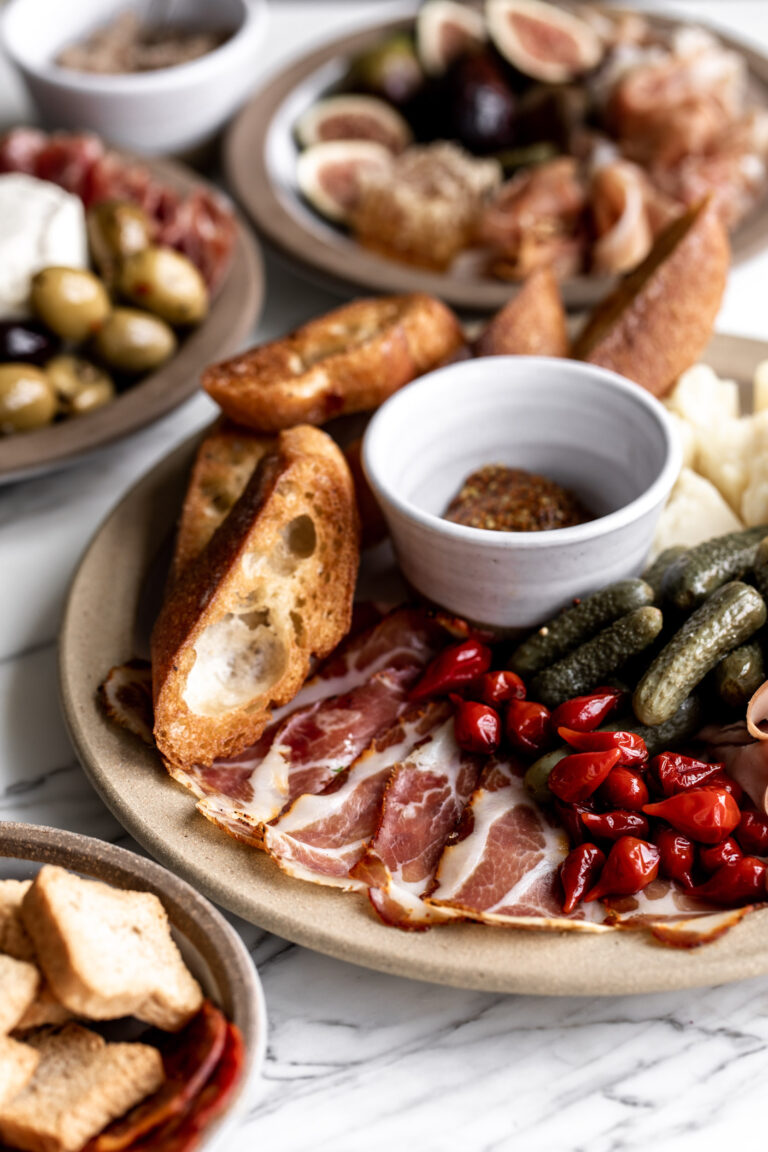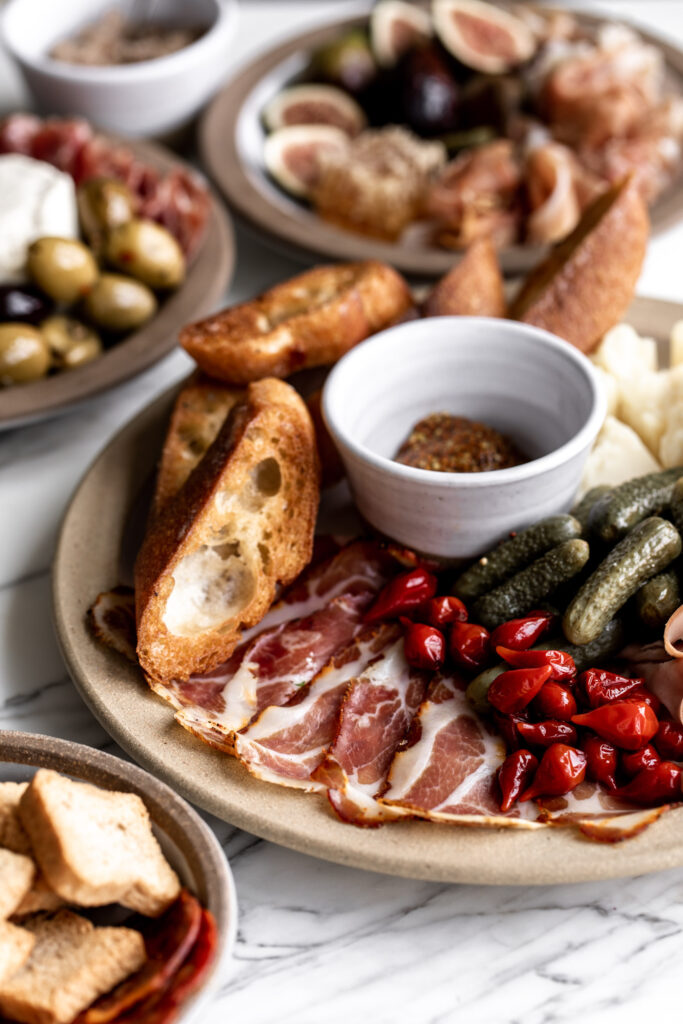 Saucisson Sec
This thick, hard dry-cured salami seasoned with fresh garlic and black peppercorns is a classic French sausage most often made from pork. The outside will develop white mold as the sausage hangs, ferments and dries out. But don't be afraid, this is normal! Like prosciutto, this is a great entry-level, basic charcuterie to include on a meat and cheese platter alongside soft cheeses, dried fruit like apricots, nuts and also Dijon mustard.
Country of origin: France
Sopressata
A coarsely ground, very fatty, dry-cured pork salami made with black pepper and garlic from Calabria, Vicenza and Tuscany. This is a type of salami (like the Italian version of Saucisson sec) similar to Genoa salami. It is enhanced with additional fat after the meat is ground. Sopressata is typically sold as "hot" and "sweet" varieties. Both are made with pork and seasoned with black pepper. However, the "hot" is spiced with Calabrian chilies and is more of a bright red color. Then serve arranged on a cutting board folded in half. With creamy soft cheeses like La Tur and Brillat Savarin or goat cheese. I find sopressata also pairs well with fresh fruit like blackberries.
Country of origin: Italy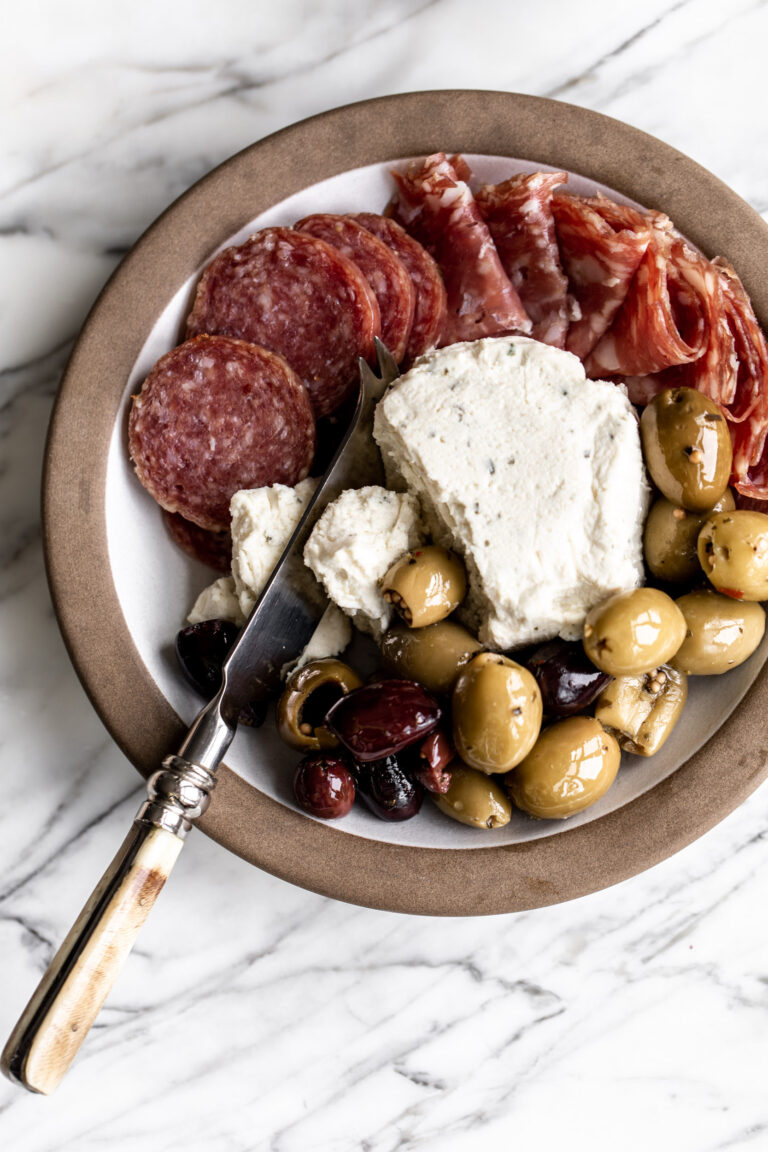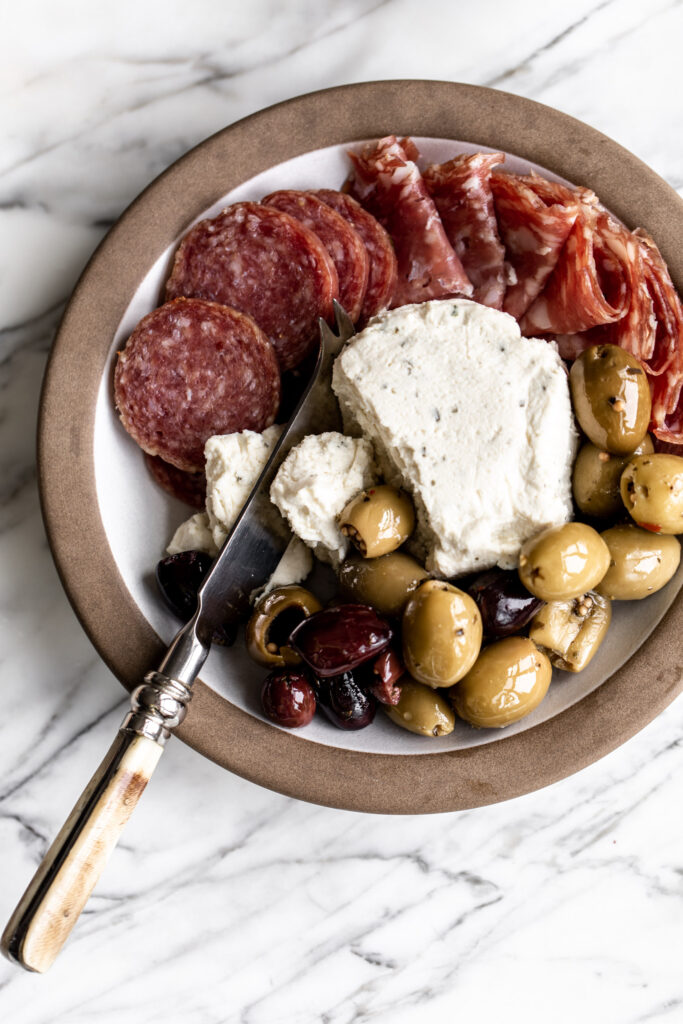 Genoa Salami
Genoa salami is readily available at many grocery stores and markets. It's a dry, spiced, cured, uncooked salami made from pork and seasoned with garlic, salt and black and/or white peppercorns and red or white wine with a smoky aroma. It's very similar to sopressata though it's softer and greasier and often made with both pork and veal. While it's called Genoa salami after it's area of origin it can actually be produced anywhere. Serve with Brie or a semi-hard cheese like Gouda
Country of origin: Italy
Mortadella
While many other sausages have a coarse grind of meat, Mortadella consists of cooked, cured pork emulsified into a purée combined with cubes of fat, peppercorns, pistachios and other spices which give the cross-section a colorful, marbled look. Mortadella is similar to bologna in many ways (it's also from Bologna, Italy) though Bologna can not have any visible fat showing. In addition, it's served sliced extremely thin and folded into quarters on a charcuterie board or on focaccia bread.
Country of origin: Italy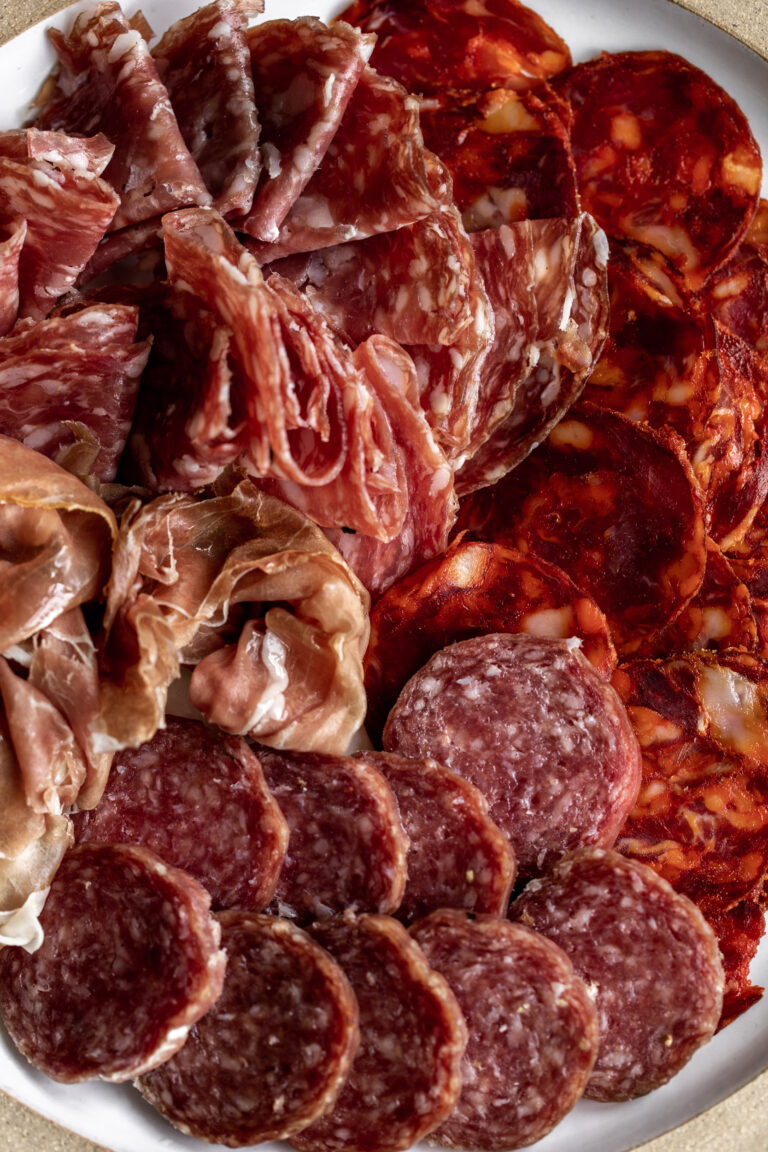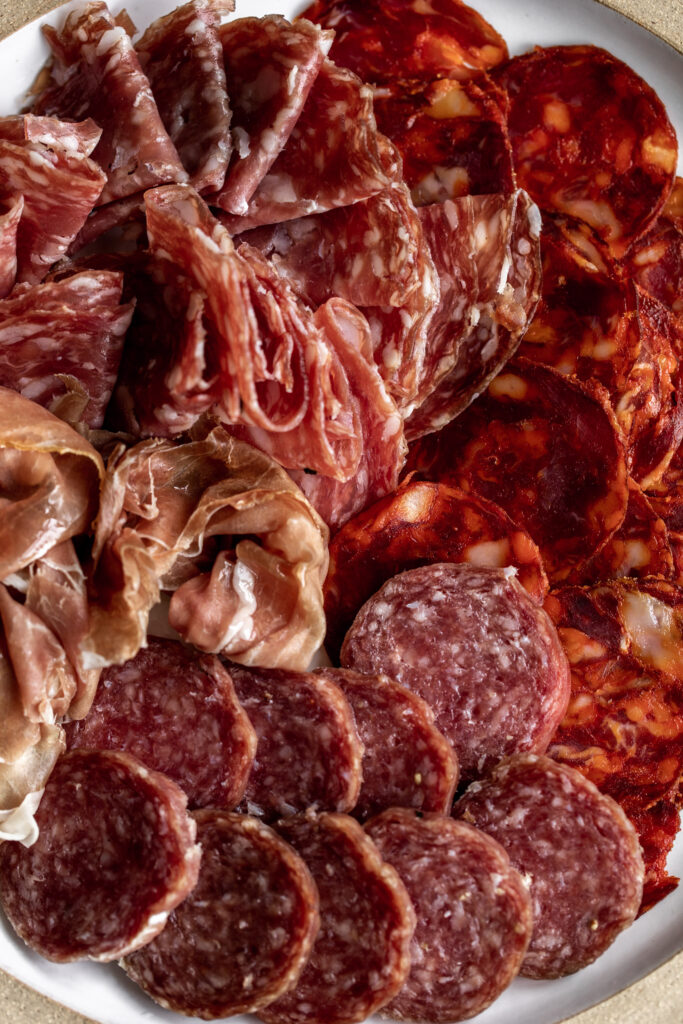 Spanish chorizo
This hard salami made from spiced pork is different from soft Mexican pork chorizo. Which is why the country is typically included before the word "chorizo" to quantify it. Coarsely ground fatty cured pork sausage is seasoned with hot paprika, garlic and then salt. It's bright red in color from the paprika and can be served either thick or thinly sliced and paired with hard Spanish cheeses like Manchego or creamy goat cheese.
Country of origin: Spain
'Nduja
This is a spicy, spreadable fermented pork sausage from Calabria, Italy. 'Nduja was created for those with limited resources – farmer's would make it out of the remaining parts of the pig after selling off the most expensive cuts and seasoning it with Calabrian chilies. When it comes down to it 'nduja is composed of three parts fat to one part lean muscle, making it spreadable. It comes jarred or encased so I serve it in small bowls with a small knife so people know what to do with it. Because it's a fermented salumi it has a certain funky quality that is perfect paired with a funky cheese like Blue or even slices of Monterey Jack. It's also a great option spread on bread or added to pizzas.
Country of origin: Italy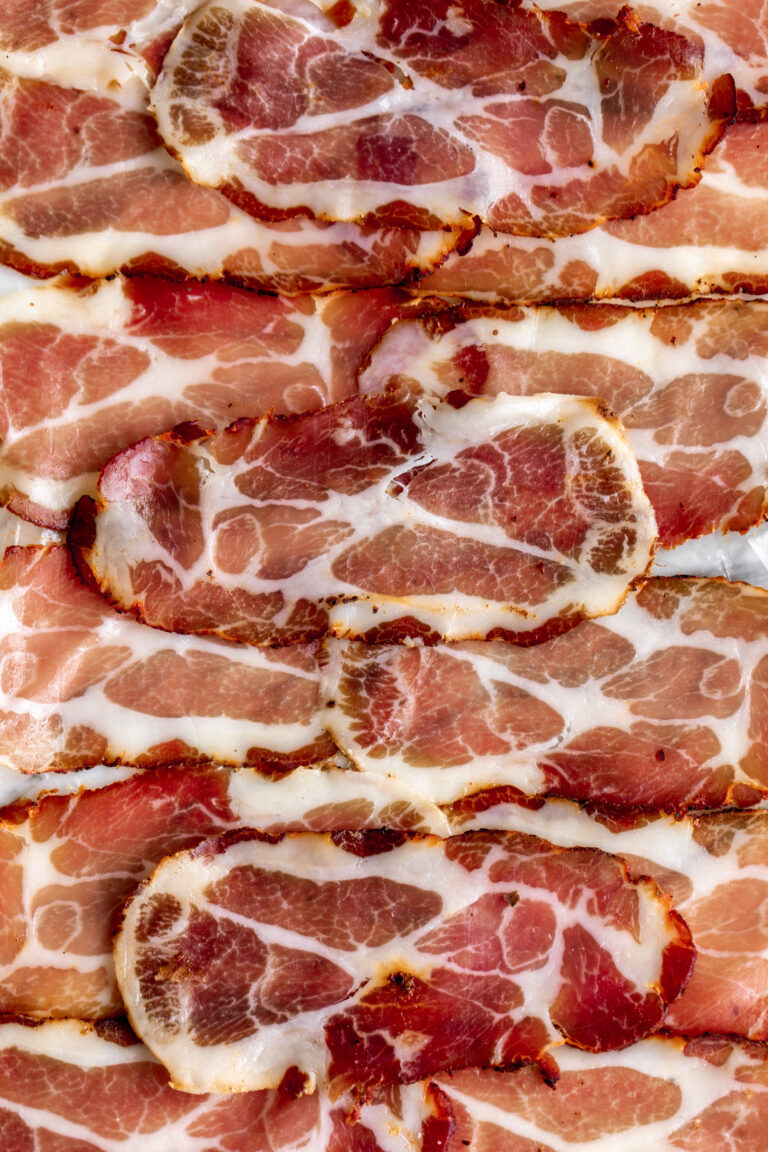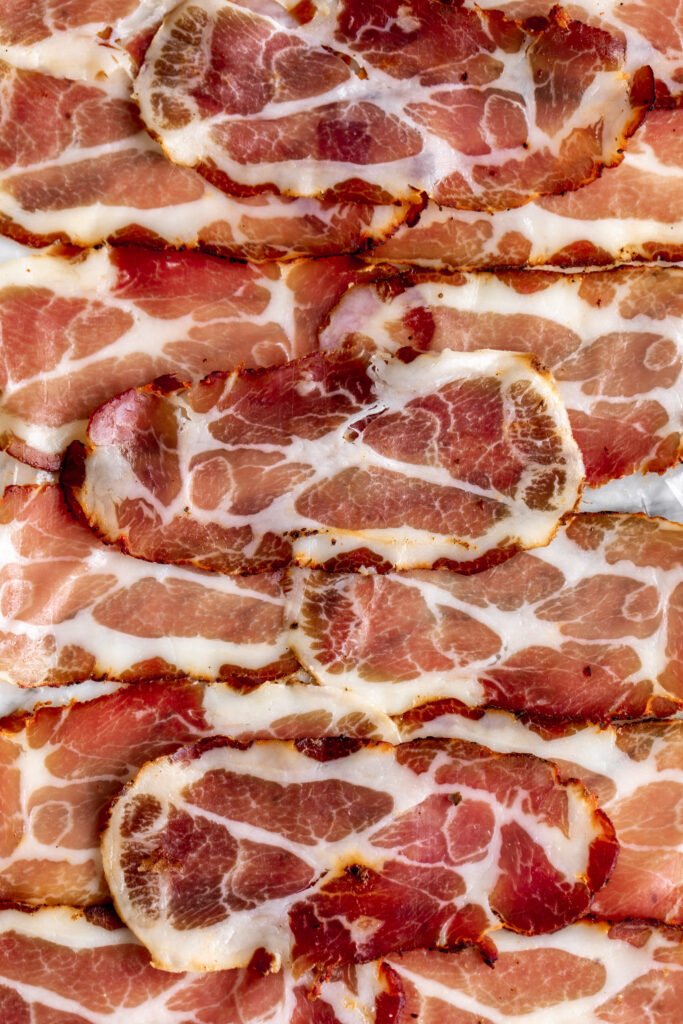 Coppa/ Capicola
This salume is made from dry-cured pork neck, specifically the muscle running from the neck to the rib of the pig, spiced with cloves, cinnamon and nutmeg. It's deep red and marbled with white fat in the muscle fibers then served sliced extremely thin. From watching the Sopranos this cured meat is also called "gabagool" a slang term with a Napolitan pronunciation used by some Italian-Americans.
Country of origin: Italy
Jamón Ibérico
Jamón, Spanish ham, falls into two different categories designated by law: Jamon Serrano and Jamón Ibérico. The latter comes exclusively from farm-raised Ibérico pigs fed hay. In fact, the more exclusive jamon Iberico puro de bellota is made from Ibérico pigs fed exclusively acorns – giving the meat an earthy, nutty flavor. This luxury ham is expensive because of the extensive care of the animals and their diet on farms, so not as much can be produced. Look for hand sliced jambon – master carvers slice it so the fat is evenly distributed along the entire piece of ham.
Country of origin: Spain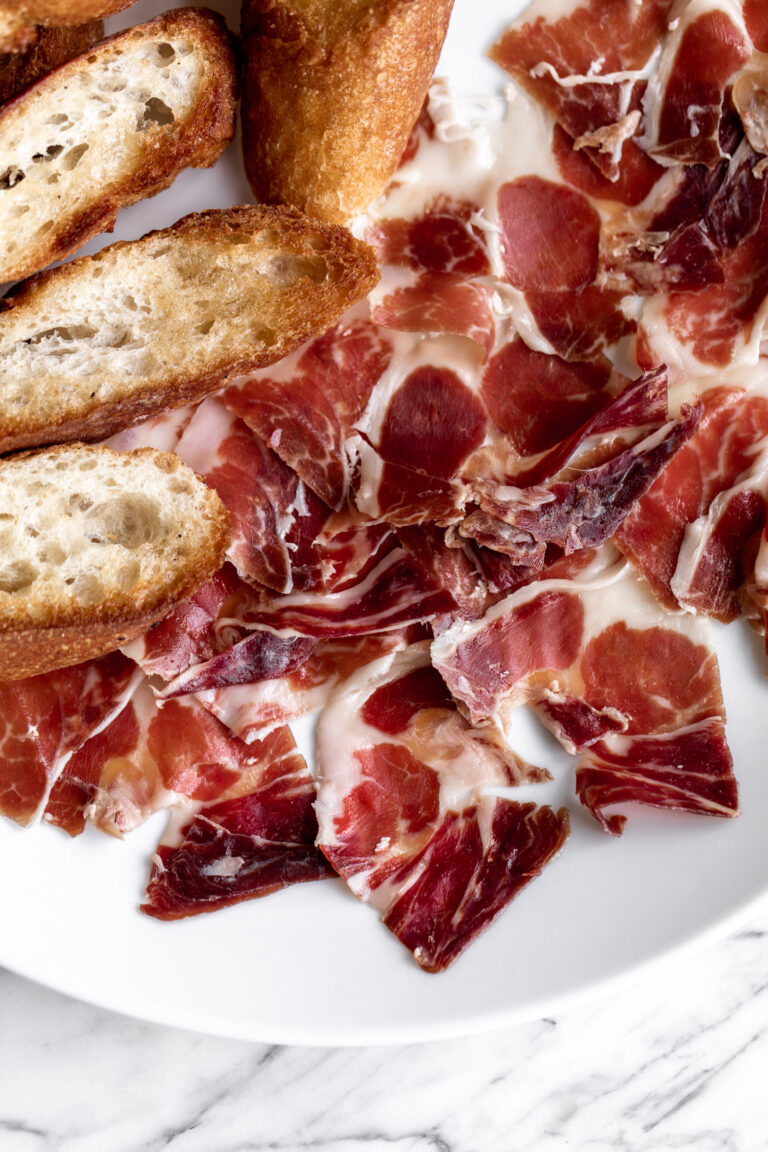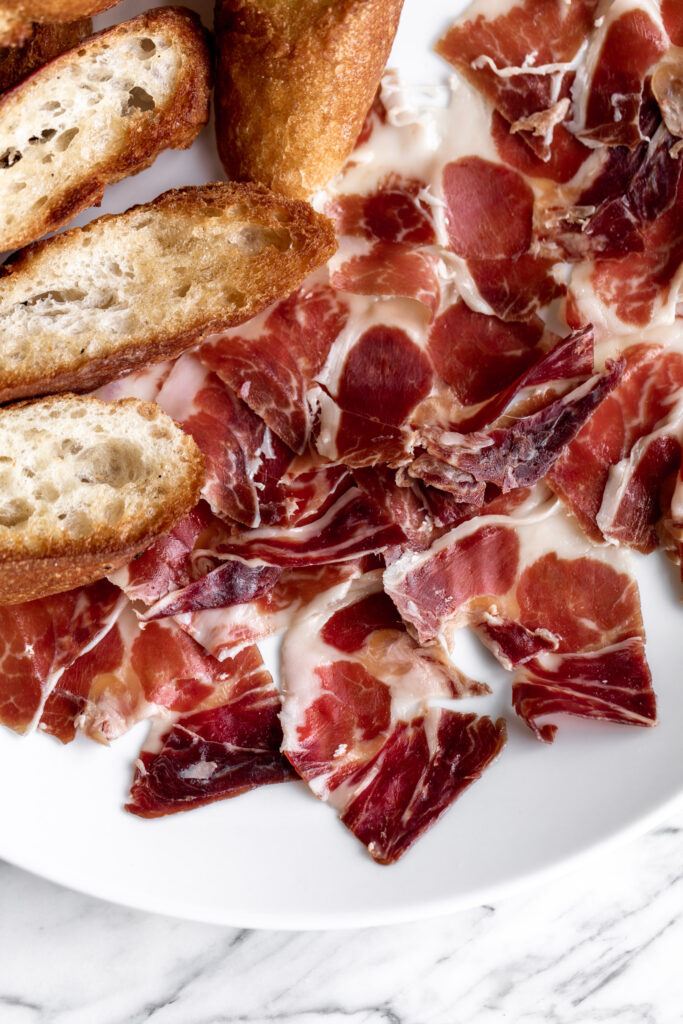 FAQ – Frequently Asked Questions
How should charcuterie be stored?
Wrap cut cured meats in deli paper or plastic wrap and store refrigerated. Uncut cured meats can be stored in a cool dry place. Use cut charcuterie within 3-5 days of purchasing for peak freshness.
How much charcuterie should I plan per person?
I typically allot 2 ounces of each cheese and charcuterie per person when served as an appetizer.
How should I serve charcuterie?
If the meat is precut and stored refrigerated let it sit for 30 minutes at room temperature before serving.
Where should I buy my cured meats and salumi?
Grocery stores like Wegman's and Whole Foods typically have a wide variety of options, and Ralph's also added New York's famed Murray's Cheese to their cheese counter, giving even more choices. I'd also recommend checking out gourmet markets as well as Italian speciality stores for a wide selection.  Look for a local cheesemonger – any place you can buy good cheese you can typically find high quality charcuterie!