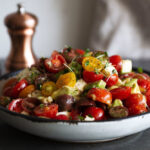 Print
Tomato, Avocado & Mozzarella Salad
The fresh flavors and bright colors of this salad immediately make me think of summer when the tomatoes are at their juiciest
Add the cherry tomatoes, olive oil and garlic to a medium mixing bowl, stirring to combine. Let the mixture sit for about 10 minutes to let the tomatoes marinate.

Cut the avocado in half and remove the pit. Slice the avocado cross-wise then scoop it out so that it is cubed. Add it to the bowl and stir gently to combine.

Cut the fresh mozzarella into ½-inch cubes and add into the bowl. Stir until the mozzarella is incorporated then add the lemon juice and season with salt to taste.