Chorizo and Tomato Soup with Wild Rice
Living in large popular cities is fun until you realize that you end up with zero kitchen space. I happen to fall under that category. While I love my apartment and the fact that I am a mere three blocks from the beach in Santa Monica – I really wish I had more kitchen space. I dream about the days when I will have more counter space to prep and when I won't have to balance pans across my kitchen sink.
But for now, I am stuck with a small kitchen which makes it exciting to be partnering with All-Clad to show you how to use the new Prep&Cook – a machine which will quite literally help you do it all in a small space. This "all in one" appliance comes with two blade attachments, a whisk attachment, a stirring attachment, a steam basket, a 300-recipe book and multiple programs to help you chop, cook, steam, knead and more all with the touch of a button. This is also the perfect machine for those who also hate to do dishes, as the bowl and attachments are dishwasher safe!
This recipe uses many of the Prep&Cook's functions. The chorizo and tomato soup with wild rice is a comforting fall soup. The chorizo and rice add texture to the tomato based broth while the chorizo adds lots of flavor and mild spice to the soup. I prefer chorizo sold at the meat counter rather than pre-packaged versions. You are more likely to get a higher quality of ground pork used in the seasoned mixture.
My experience with the Prep&Cook in my small kitchen was a complete success – it did all that it proposed to do. The soup came out great and there was little left to clean up. If you are a "small kitchen" person Prep&Cook should work well for you as well.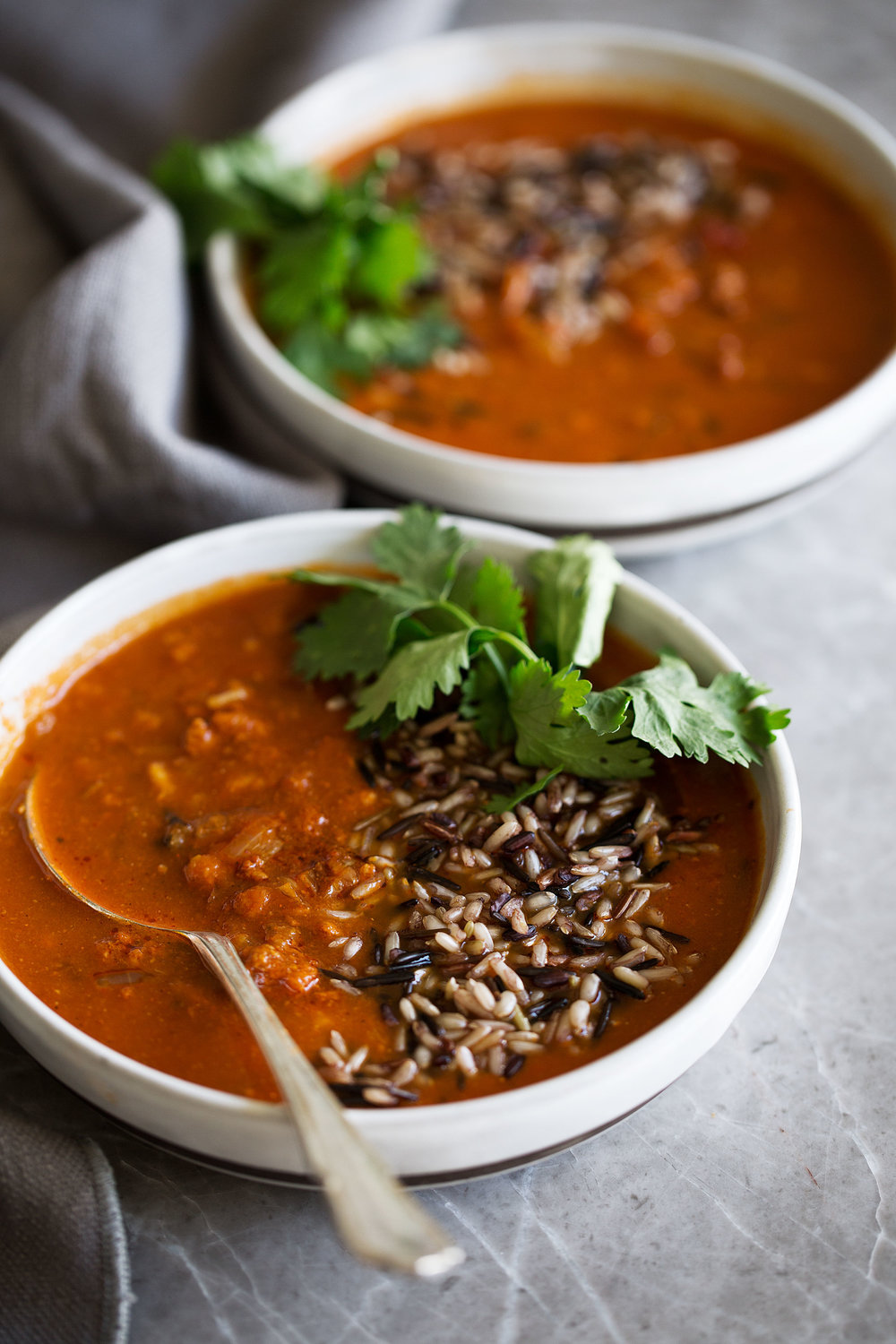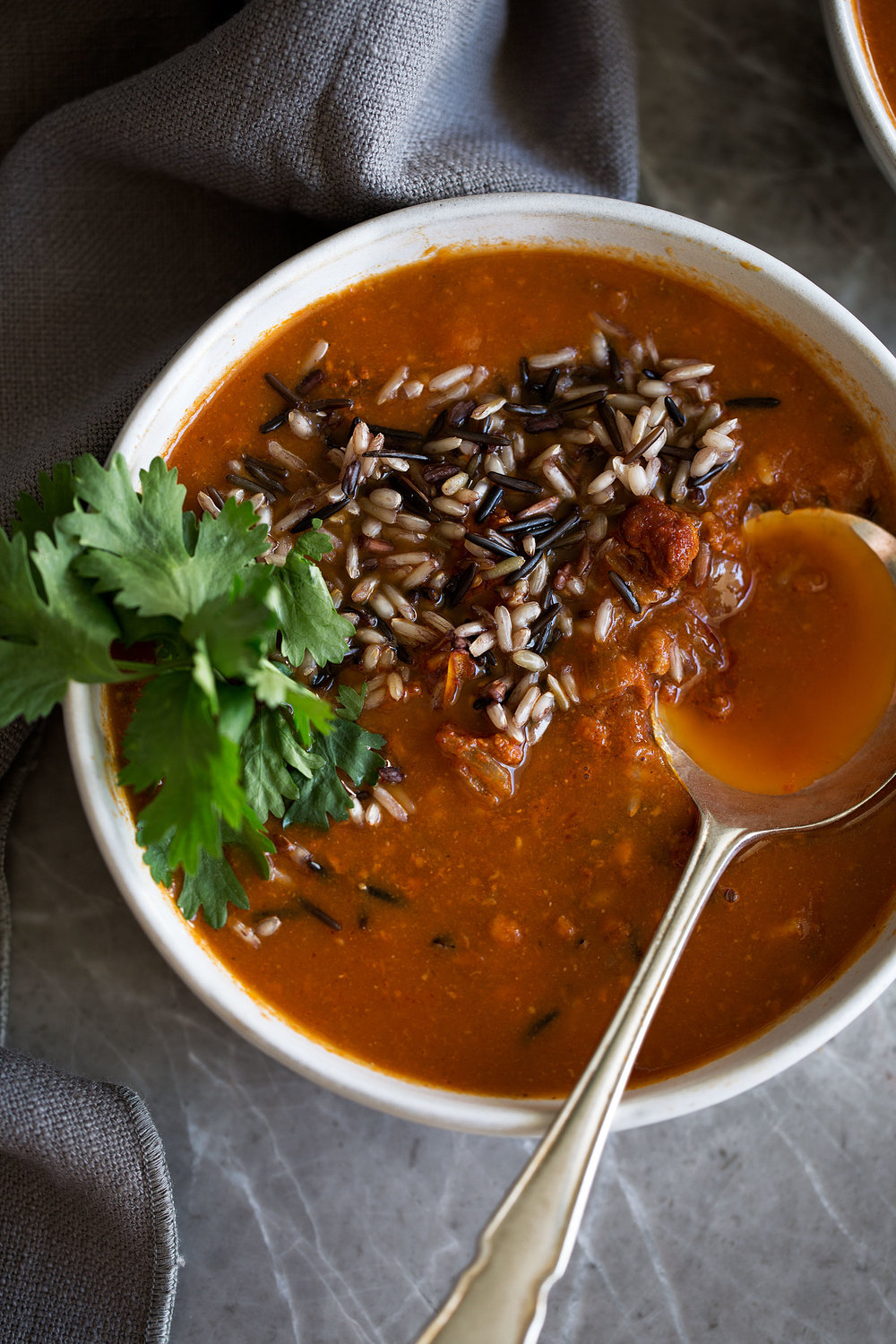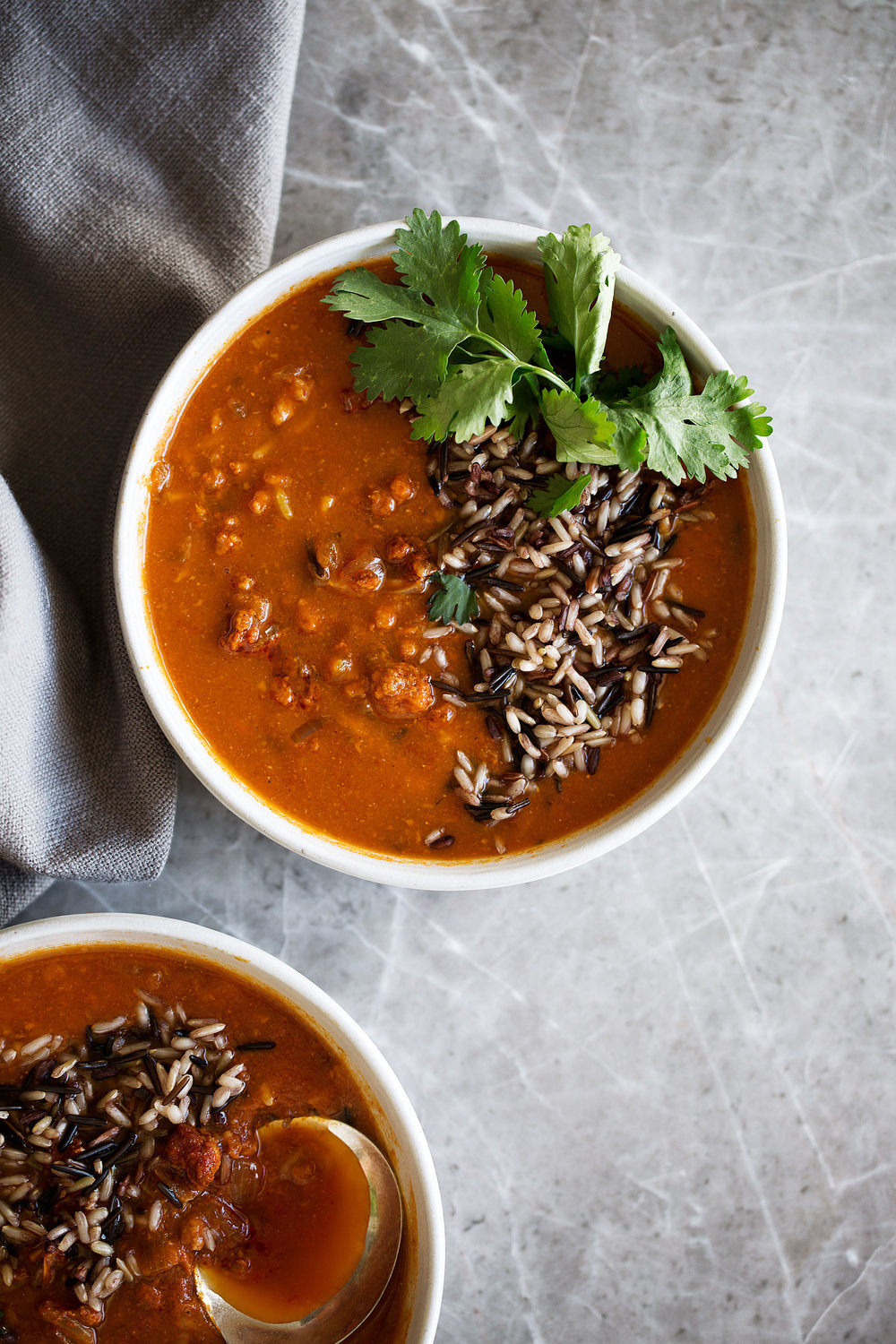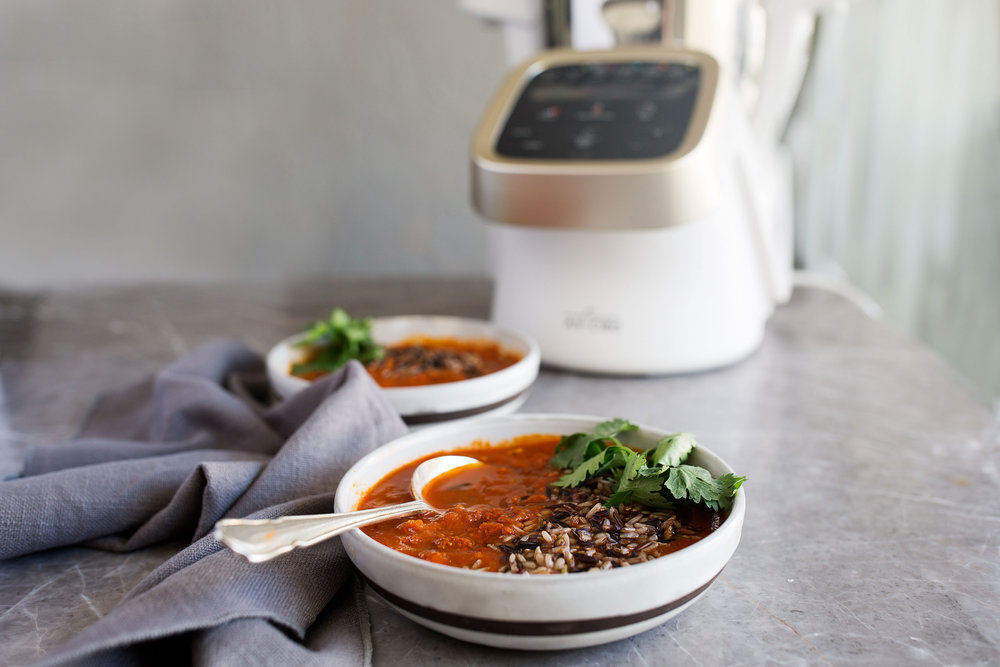 Chorizo and Tomato Soup with Wild Rice
2

tablespoons

extra-virgin olive oil

1

pound

Mexican pork chorizo*

1

medium yellow onion,

chopped

1

28-ounce can whole peeled tomatoes

1

4-ounce can diced green chilies

2

cups

chicken stock

1

cup

wild rice

Kosher salt,

to taste

Freshly ground black pepper,

to taste

¼

cup

chopped cilantro,

for garnish
Plug the Prep&Cook in and fit it with the blade attachment. Add the olive oil and chorizo to the bowl and set to the P1 simmer program (browning) at 270ºF for 8 minutes.

Remove the chorizo to a separate bowl and set aside, leaving as much oil in the bowl as possible.

Add the onion and set again to the P1 simmer program at 270º for 5 minutes.

Add the tomatoes, diced green chilies, stock and 3½ cups of water then set to the P1 soup program (creamy soup) and simmer the soup at 210º for 40 minutes. The program will automatically puree the mixture at the end of the simmering process.

Add the rice and continue to cook on the P1 simmer program for 40 minutes at 270º

Add the cooked chorizo and simmer on the P1 simmer program for an additional 20 minutes at 270º to bring the flavors of the soup together. Season the soup to taste with salt and pepper.

Ladle into soup bowls and garnish with cilantro.
DID YOU MAKE THIS?
TAG ME ON INSTAGRAM TO BE FEATURED ON MY STORIES! @cookingwithcocktailrings
This post is sponsored by All-Clad – all opinions expressed are my own. Visit All-Clad to learn more.