This is my absolute favorite Italian meatball recipe, made with beef, pork and prosciutto. I have found that the fattier the ground meat you use, the more tender the meatballs and so I generally use ground chuck with a 80 percent lean, 20 percent fat mix. It is not overly fatty, but still has great flavor.
The meatballs can be served over spaghetti with marinara sauce as pictured or tossed in marinara sauce and served with toasted focaccia bread. Meatballs aren't traditionally served over spaghetti in Italy, it's much more of an Italian-American dish. Meatballs are typically an appetizer served in sauce on their own. If you have leftover meatballs I suggest making a meatball sub.
Beef, Pork & Prosciutto Italian Meatballs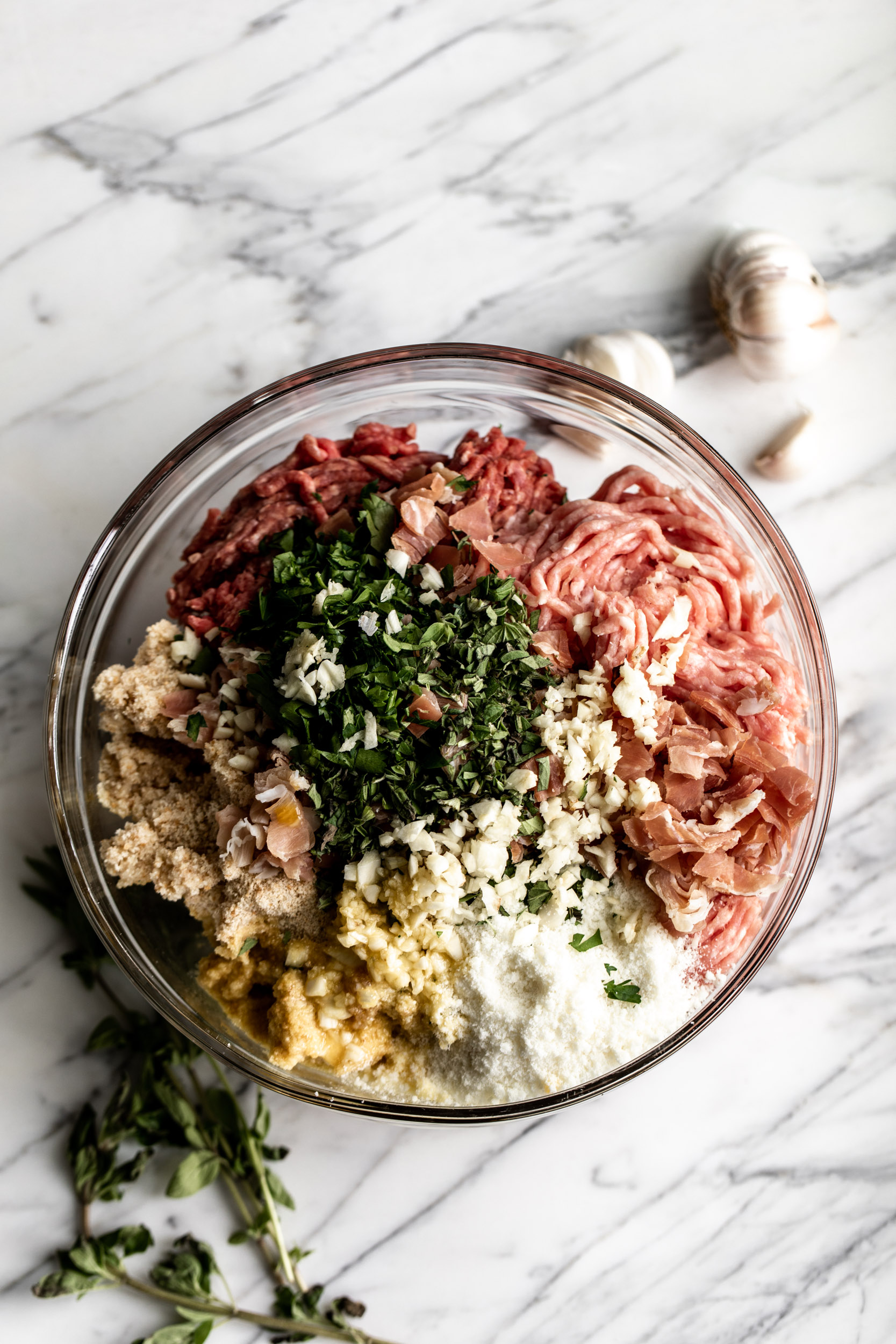 Key Ingredients in This Recipe
Beef – I use a blend of 80% lean/ 20% fat ground beef. The fat adds flavor to the meatballs while also keeping them moist. A large portion of the fat renders out as the meatballs cook. Remember fat equals flavor!
Pork – Ground pork typically comes from minced pork shoulder meat and is incredibly versatile. I like the flavor using both pork, beef and prosciutto adds to the meatball recipe.
Prosciutto – My recipe incorporates prosciutto, which gives the meatballs extra meatiness and adds texture.
Breadcrumbs – Using soaked breadcrumbs also helps to keep the meat tender and moist while it is cooking and aids in binding the meatballs together. I use plain breadcrumbs rather than Italian in this recipe since the meatballs are seasoned with fresh herbs like oregano and parsley. I love making my own breadcrumbs out of leftover stale bread.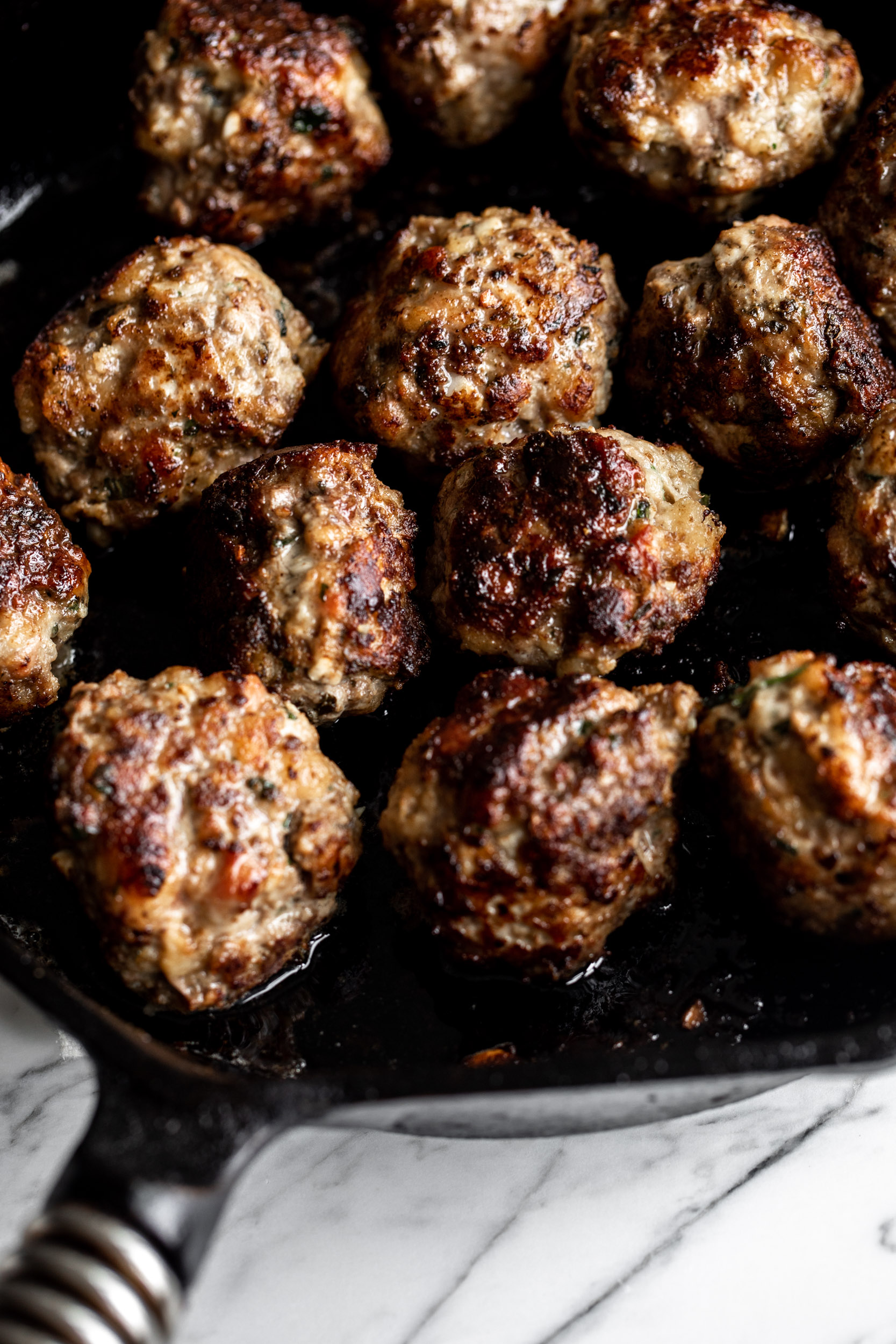 How to Make Beef, Pork and Prosciutto Italian Meatballs
Let milk and breadcrumbs sit. In a small mixing bowl combine milk and breadcrumbs and let it sit for 10 minutes.
Mix the meatballs. In a large mixing bowl combine the prosciutto, beef, pork, eggs, Parmesan, parsley, basil, oregano, garlic, salt and pepper.
Shape meatballs. Add the soaked breadcrumbs to the mixture and use your hands to blend. Divide the mixture into ¼ cup portions and roll into balls. Place them on a parchment-paper-lined baking sheet until all the mixture is used.
Sauté meatballs. In a large skillet over medium heat add two tablespoons of the olive oil and heat through. Working in two batches, add half of the meatballs to the skillet and cook through and brown on all sides, about 8 minutes.
Repeat with the remaining meatballs. Remove to a plate. Add the remaining olive oil to the pan and repeat with the remaining meatballs.
Cook the pasta. Bring a large pot of water to the boil. Add the pasta and cook, stirring occasionally, until al dente, about 10 minutes. Drain and return the pasta to the pot and toss with the marinara sauce.
Assemble and serve. Serve the meatballs hot over spaghetti and marinara and top with cheese. Serve immediately.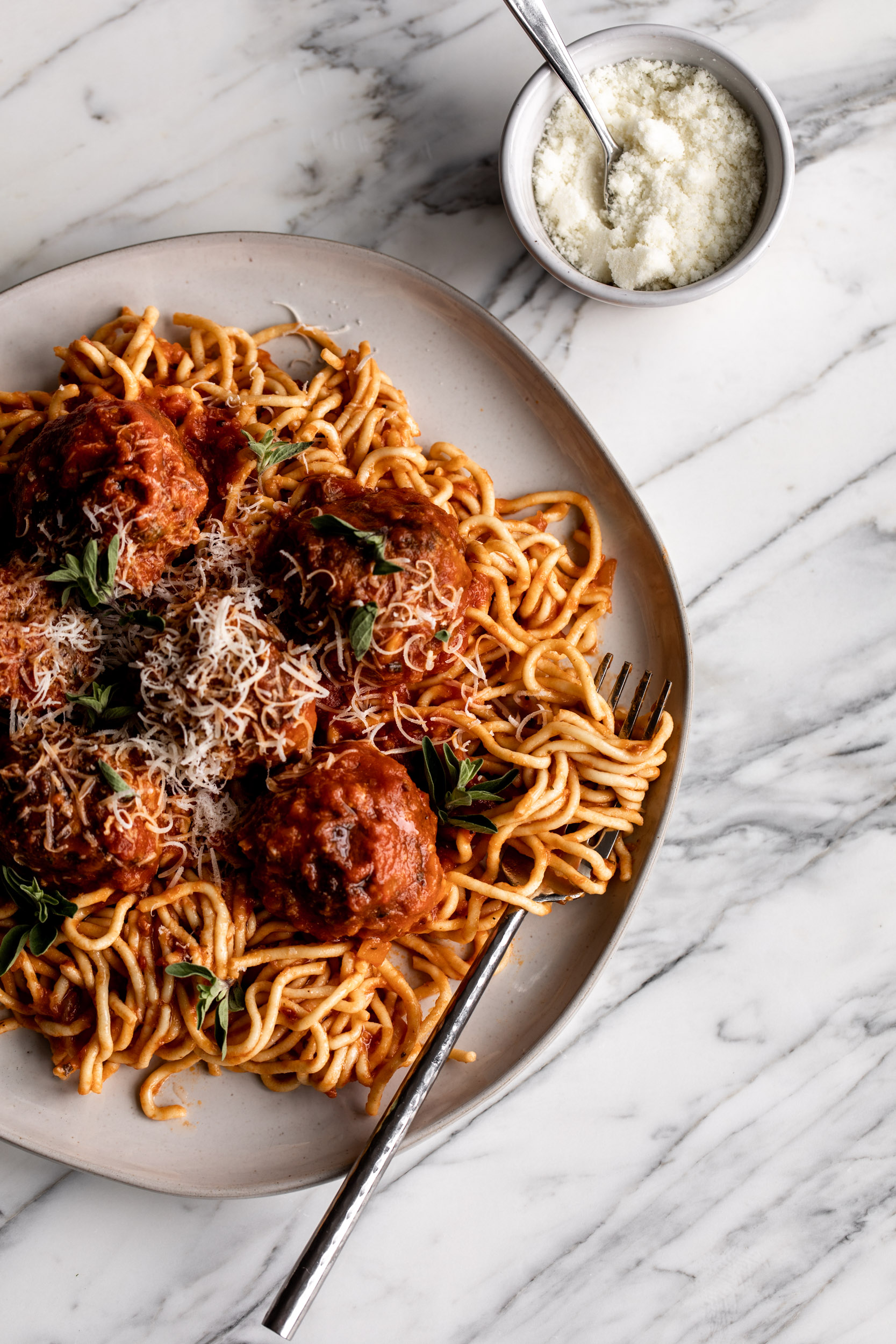 Tips and Tricks for This Recipe
A tip for creating perfect meatballs is to make sure that you don't overwork the meat when you are using your hands to combine the ingredients.
Any leftover meatballs can easily be added to a resealable plastic bag and frozen until ready to reheat. Either store raw then thaw and continue to sauté as noted in the recipe. You can also store the meatballs sautéed and bake to reheat.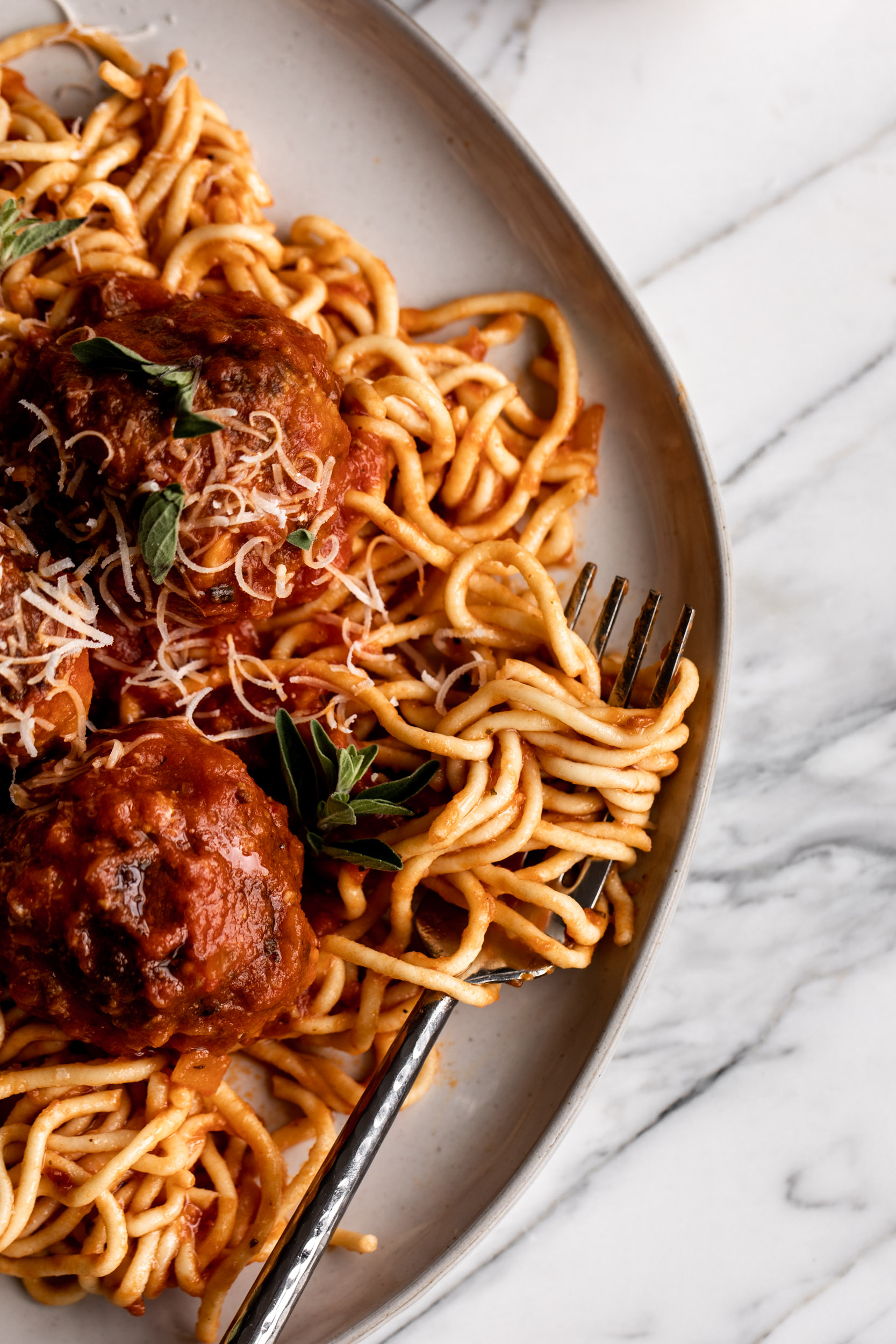 Other Recipes to Try
If you enjoy this meatball recipe, I recommend checking out some of these: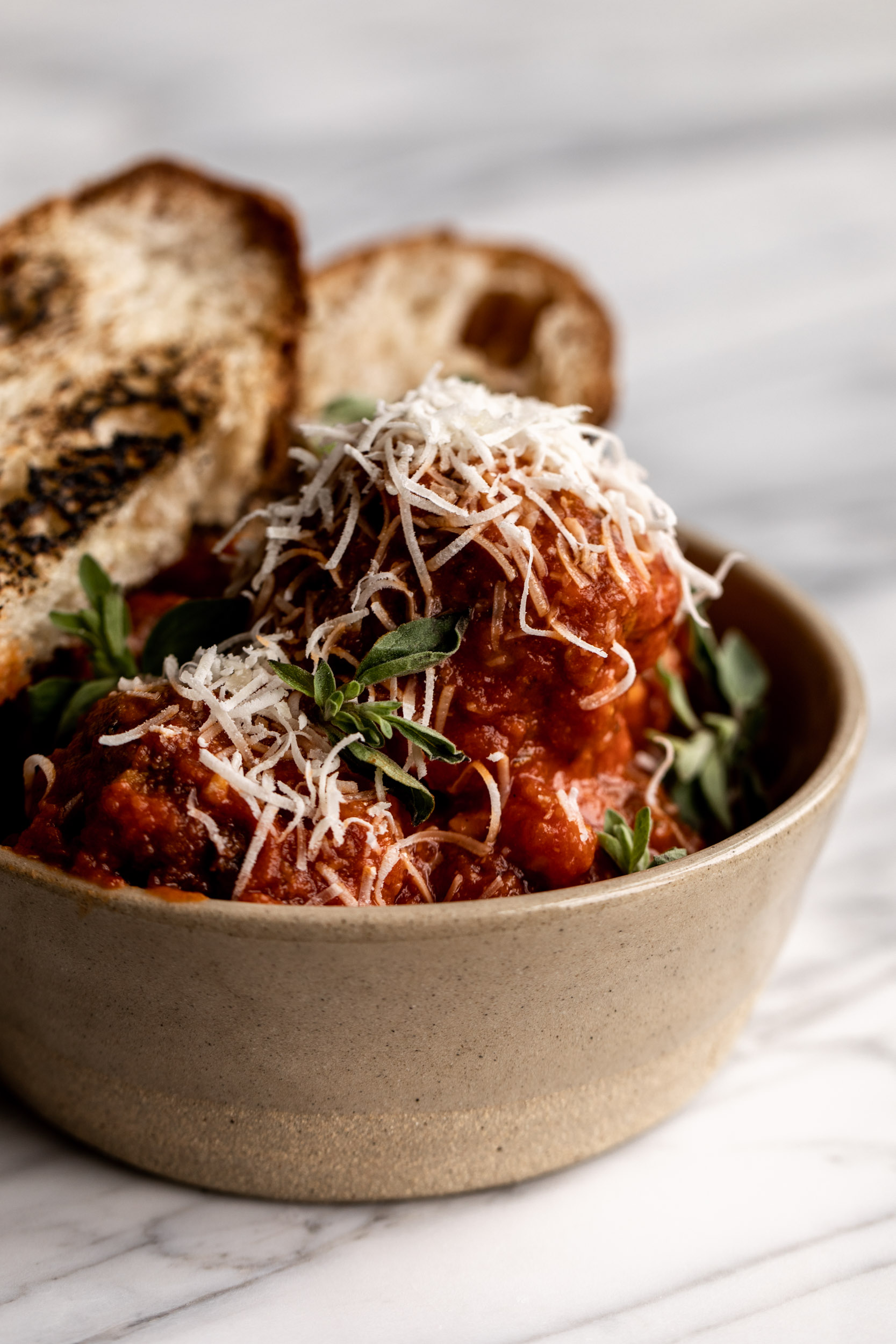 Beef, Pork & Prosciutto Italian Meatballs
1 ½

cups

plain breadcrumbs

2/3

cup

whole milk

4

ounces

chopped prosciutto,

about ½ cup

1

pound

ground beef,

80% lean/ 20% fat

1

pound

ground pork

2

eggs,

lightly beaten

2/3

cup

grated Parmesan cheese

2

tablespoons

chopped flat-leaf parsley

2

tablespoons

chopped fresh basil

1

tablespoon

chopped fresh oregano

6

garlic cloves,

chopped

1

teaspoon

kosher salt

½

teaspoon

freshly ground black pepper

4

tablespoons

extra-virgin olive oil

1

pound

spaghetti

Grated Parmesan cheese, for serving
DID YOU MAKE THIS?
TAG ME ON INSTAGRAM TO BE FEATURED ON MY STORIES! @cookingwithcocktailrings