Three cup chicken is an easy recipe made by stir-frying chicken thighs in a syrupy sauce made with soy sauce, rice wine and sesame oil with garlic, ginger, green onion, peppers and basil. The savory dish pairs perfectly with this garlic crab fried rice dish, two staples from one of my favorite LA restaurants, ROC.
Taiwanese Three Cup Chicken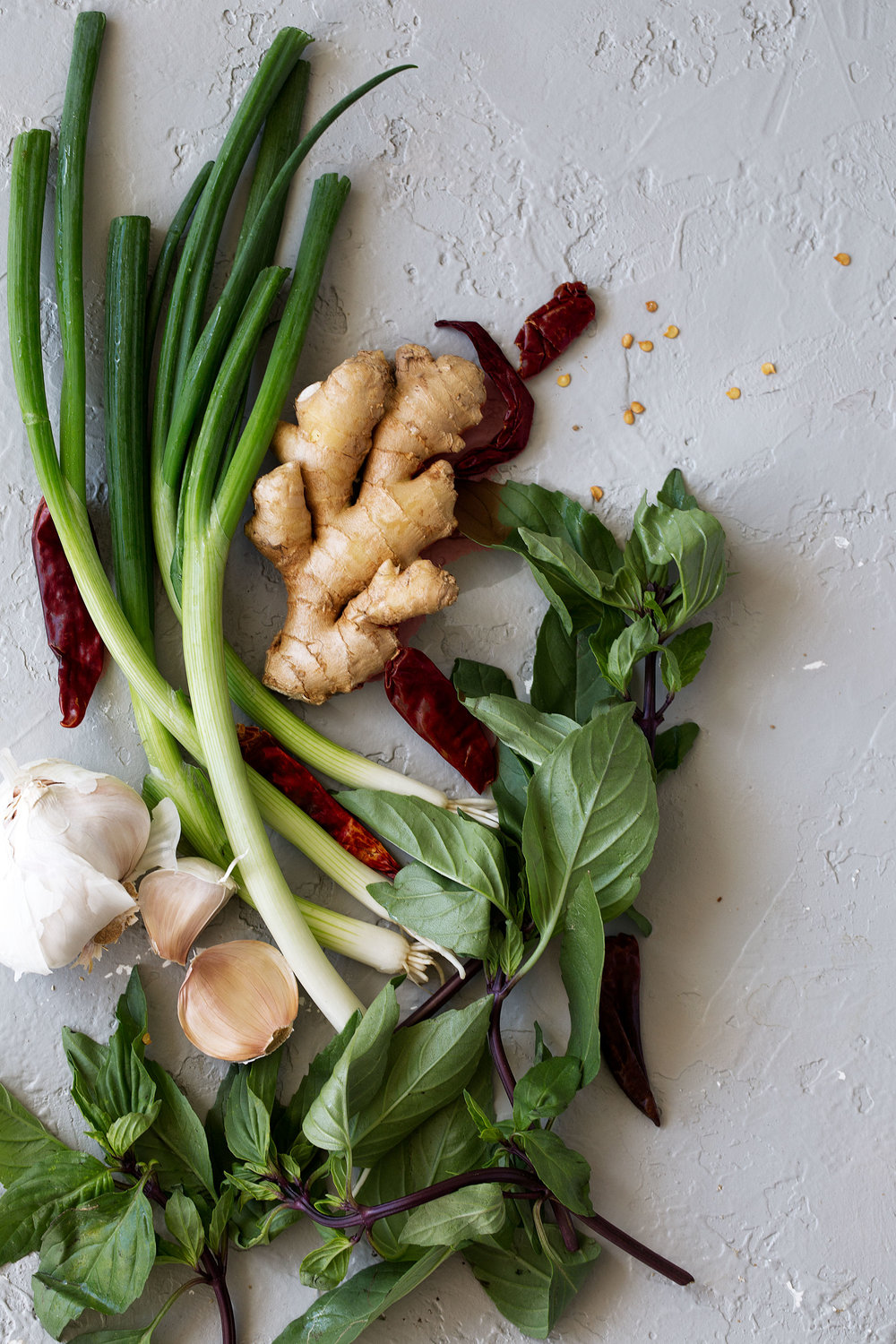 About Three Cup Chicken
After having this at a restaurant I just had to look up the origins of the name. The name for this Taiwanese dish actually comes from the original recipe for this dish. The original recipe called for equal cups of soy sauce, rice wine and sesame oil. The sauce will reduce more, you want to get a slightly thick, almost sticky sauce that coats the chicken.
There are debates as to why it called for these measurements; whether it was because recipes were passed down through spoken word rather than written down so it was easier to remember or because in China during the 13th Century a guard made this dish using limited resources for a war hero's last meal prior to his execution.
Key Ingredients in This Recipe
Chicken – I use chicken thighs in this recipe because they are both a cheaper cut as well as extremely flavorful. As they are cooked in the sauce the dark meat remains tender and moist.
Soy sauce – I use reduced sodium soy sauce so that I can control the amount of salt in the recipe, adding more if needed.
Mirin – Mirin is a type of rice wine used as a seasoning. It can be found at an Asian market or online. If you can't find mirin I recommend substituting with a dry sherry or dry white wine like chardonnay.
Sesame oil – Sesame oil is made from pressing raw sesame seeds. It's nutty flavor and high smoke point (410ºF) make it a great cooking oil and flavoring for dishes. Darker toasted sesame oil has a stronger flavor and is great for finishing dishes while light sesame oil is more neutral in flavor. I have used both in this recipe though toasted sesame oil will give it a much stronger sesame flavor.
Dried red peppers – This dish is traditionally made with whole dried peppers. The peppers flavor the dish without adding an overpowering spice since they are left whole. If you can find them, use Tien Tsin chili peppers also known as Chinese red peppers. If you can't find them substitute chiles de arbol (a similar size) or 1 teaspoon of red pepper flakes.
Thai basil – While Thai basil has a unique flavor, it can be difficult to find at many American grocery stores. If you can't find it, simply substitute with regular basil.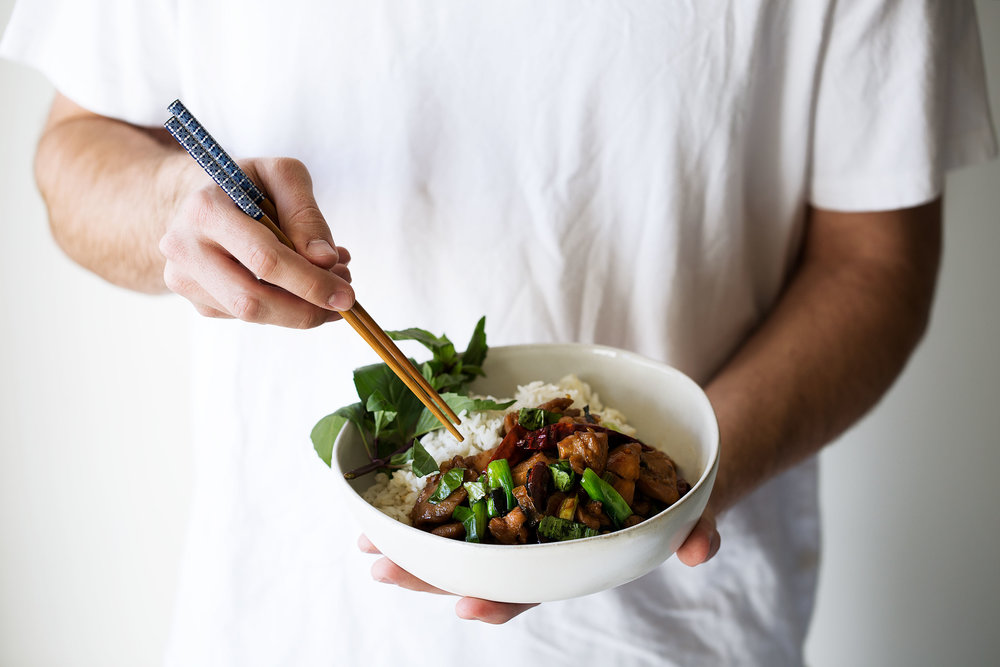 How to Make Taiwanese Three Cup Chicken
Cook aromatics. Heat a wok over medium-high heat, add the peanut oil, garlic and ginger. Stir constantly until garlic is golden brown, about 30 seconds.
Cook the chicken. Add the chicken, stirring, until the chicken is browned on all sides, about 3 to 5 minutes.
Add the sauce. Next, add the soy sauce, rice wine, sesame oil and brown sugar.
Reduce the sauce. Cook, stirring occasionally, until the chicken is cooked through and the sauce has thickened to the consistency of maple syrup, about 15 minutes. If the chicken is cooked through, but the sauce has not reduced enough, remove the chicken from the wok and set aside in a bowl; cover to keep warm. Continue to cook the sauce over medium heat, stirring occasionally until thickened to the desired consistency.
Add the garnishes. Return the chicken to the sauce, stirring to combine then add the red peppers, scallions and basil.
Serve. To serve, divide the chicken among plates and serve with a side of white rice.
Other Recipes to Try
If you enjoy this three cup chicken recipe, I recommend checking out some of these: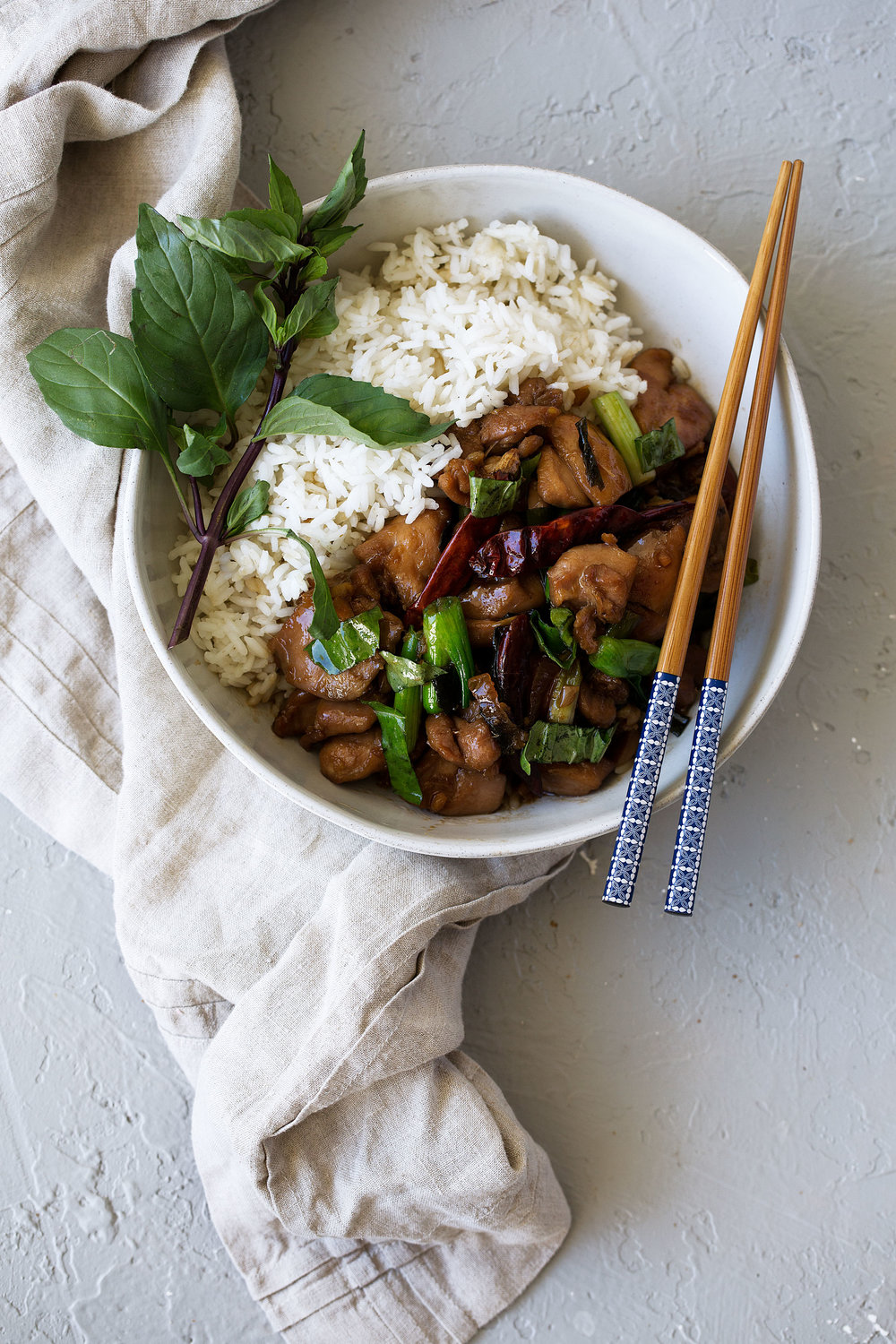 Taiwanese Three Cup Chicken
2

tablespoons

peanut oil (or other neutral oil)

5

cloves

garlic,

finely chopped

1

tablespoon

chopped fresh ginger

1 ½

pounds

boneless, skinless chicken thighs,

cut into ½-inch pieces

¼

cup

soy sauce

¼

cup

Mirin

¼

cup

toasted sesame oil

2

tablespoons

light brown sugar

4

dried Tien Tsin chili peppers

(or chiles de arbol or 1 teaspoon red pepper flakes)

4

scallions,

trimmed and cut into 1-inch pieces

¼

cup

chopped Thai basil leaves
DID YOU MAKE THIS?
TAG ME ON INSTAGRAM TO BE FEATURED ON MY STORIES! @cookingwithcocktailrings